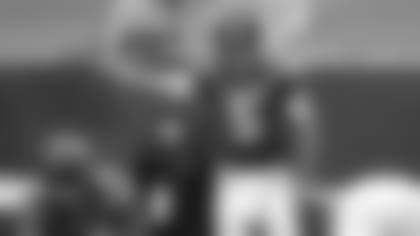 Joe Flacco and Justin Herbert are two giants on opposite sides of the spectrum and yet they find themselves in a familiar place. When the Jets (0-9) and the Chargers (2-7) meet at SoFi Stadium on Sunday in Inglewood, Calif., Flacco and Herbert hope to lead their teams out of a football abyss.
On the visitors sideline will stand the 6-6, 245-pound Flacco, looking for his 99th career regular-season victory and to help secure victory for the NFL's sole winless team. On the home sideline will stand the 6-6, 235-pound Herbert, aiming for his second triumph for a club that has lost seven of his eight starts.
Flacco, who fields one of the NFL's finest beards, was excellent in his last time out as he led the Jets to scoring drives on five of their first six possessions against the Patriots in Week 9. Equipped with a healthy receiver group featuring Breshad Perriman, Denzel Mims and Jamison Crowder, he beat the Pats' blitzes and man coverage while hitting on 72% of his passes for 262 yards with 3 TDs. He found his groove but will find a different task this weekend against a Chargers defense that doesn't blitz often and favors zone coverage in the back end.
"You can do certain things in protection to help yourself out and all those typical things that you can do, but I definitely think it comes down to running the football and winning as quickly as we can everywhere else," Flacco said of facing a Chargers unit that is expected to get DE Joey Bosa back in the lineup.
Herbert, who created a social media stir after opting for the clippers to shed his long locks, had a difficult time of it in a Week 10 loss to the Dolphins. Although Herbert's final numbers were OK (2 TDs, 62.5%), the Bolts had just 174 net yards passing and finished 4 of 13 on third down against Miami's aggressive defense. But the early returns have been most impressive for a signal-caller who became the only rookie in NFL history to throw for 2,000 or more yards and 15 or more touchdowns in his first seven starts.
"We are so locked into our little bubble here trying to prepare for the next week, you don't really get the chance to study these guys and see how they are doing," Flacco said. "I do know that he's obviously been playing well, he's thrown the ball around the yard a little bit and having some fun. It obviously isn't something that is too big for him, he stepped in right away and was able to show right away that he belongs and that he can make it in this league."
Flacco, who will turn 36 in January, is a former Super Bowl MVP who has 10 playoff wins on his résumé and last week passed Joe Montana for 20th place on the NFL's passing yards list. He'll target a Chargers team that has yielded at least 29 points in six consecutive contests.
"I think ultimately it's about proving things to people every time you go out and have success, to prove to myself over and over," Flacco said. "You have to constantly go out there and pass the test and get your confidence level higher. The first two games were a good little ramp up, I did some good things and it helped me to play free. We played a good team game, it's a shame we were not able to finish it out. We wanted to win the football game. The fact that we didn't finish out was tough. It was a good challenge for me to get out there and start to feel it again."
Herbert, who will turn 23 in March, is averaging 291.6 Yds/G and has completed 66.8% of his passes with 19 TDs and 6 INTs. He is surrounded by good skill-position talent in WRs Keenan Allen and Mike Williams along with TE Hunter Henry, and they'll challenge a Jets cornerbacks group that is green and potentially could start two rookies in Bryce Hall and Lamar Jackson.
"I would say coverages have not gotten easier to read, but you feel more comfortable going out there and seeing things," Herbert said. "I think experience is the biggest teacher, so anytime you get a chance to see coverages and how they're playing them, techniques, you get a much better feel for that."
Herbert, the 2020 Rose Bowl MVP with Oregon who was taken No. 6 overall in last April's NFL draft, sounded like a veteran this week when asked about his motivation for the upcoming matchup.
"To win the game," he said. "It's always a great opportunity to go out there and play football. I really believe in the guys that we have in this locker room and the coaching staff that we have. I know we can get it done and it's just about going out there and executing."
In his 13th pro season, Flacco, the No. 18 pick in the 2008 NFL draft, signed with the Jets in May to be Sam Darnold's backup. But on Sunday he'll make his fourth start for a team that is seemingly young everywhere and suited up 10 rookies the last time they were in action.
"I really didn't anticipate anything, I'm definitely grateful for the chance to play a little bit," he said. "Obviously, you never want to see your teammates go down so that part of it's not the best. But you know, I've never been in this position coming into the season, knowing that I wasn't going to be the starter, so I really just tried to approach it with an open mind, help the quarterback out, help Sam out as much as I can, but at the same time continue to work hard and stay on top of things."
The Jets-Chargers game will mark the first time that a pair of 6-6 QBs have started against each other since Week 9 of the 2017 campaign (Brock Osweiler/Denver vs. Nick Foles/Philadelphia). And while collective success has proved to be a tall order for both clubs, either Flacco or Herbert is going to be a winner late Sunday afternoon in Southern California and that's no tall tale.