Jets players and plays of the game in the 30-23 loss to the Patriots at Gillette Stadium on Sunday afternoon:
Eric Decker — "Deck" drew praise all around the visitors' locker room. Ryan Fitzpatrick said he played "a great game" and Brandon Marshall said he was proud of his fellow receiver. With Marshall double-teamed almost every play, Fitzpatrick went to Decker early and often — 12 targets, six catches, 94 yards. Four of the receptions converted third downs, the most by a Jet since Jeremy Kerley had his six conversions against the Patriots in the 2013 home win.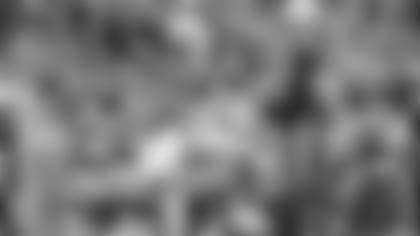 Ryan Fitzpatrick — Fitzpatrick's game started slow as he lost a fumble trying to scramble up the middle on the game's second play. But it improved greatly from there as the QB completed 22 of 39 passes for 295 yards — his best yardage total as a Jet — and two touchdown passes. On third downs he went 8-of-12 for 114 yards and seven conversions. He also gained 29 yards on five carries. In the process he directed long scoring drives of 78, 83, 80 and 71 yards.
Nick Folk — Folk optimized his 11 plays by keeping the Jets in the hunt with 3-for-3 field goal accuracy. Kicking from the holds of Steve Weatherford, who last held for him in 2010, he hit from 20 yards to tie it at 3-3, from 30 to open the Jets' lead to 20-16, and from 55 down the middle — a yard shy of his franchise-record distance — to cut the deficit to 30-23 with 18 seconds left. Then he executed an onside kick that Brandon Marshall recovered, the Jets' first successful onside kick in seven years, to at least give the Jets a chance to tie.
Jeremy Kerley 5-yard touchdown reception, 12:30 to play, second quarter — Kerley's second touchdown catch this season gave the Jets their first lead at 10-3. Lining up split left at the Patriots 5, he engaged CB Justin Coleman, immediately made his cut on a shallow slant, grabbed Fitzpatrick's pass at the 1 and, despite Coleman's late arrival and tackle attempt, crossed the goal line to temporarily quiet the Gillette Stadium crowd.
Chris Ivory 9-yard touchdown reception, 4:07 to play, third quarter — Ivory said his tight hamstring and the Patriots' determination to set the edge and force him inside led to 41 rushing yards, the first time in three games he didn't crack 100. But he made it happen in the passing game as he went outside from his tailback spot, beat Rob Ninkovich (who otherwise had a big game for NE with four pass batdowns and as one of the edge-setters), made a nifty catch of Fitzpatrick's low, outside pitch, and was uncontested on his way to the right pylon for a 17-16 Jets lead.
Sheldon Richardson strip sack of Tom Brady, 2:45 to play, third quarter — Richardson had his most visible game yet after his late start. This play was the closest the Jets came to a takeaway against Brady and the stingy Patriots. Richardson helped flush the QB from the pocket, then pursued and hammered the ball out of his grip as he began to throw. The hit was a yard behind the line and Brady recovered a yard ahead of it, leading to a scoring judgment of a running play, but it's hard to see how this was not Richardson's second sack of the game.