Welcome back, Jason Taylor.
I know, I know, Taylor doesn't like the Jets and the Green & White don't like him. But I've always respected what No. 99 in aqua and coral could do and had done to the Jets, among others, ever since Miami brought him into the NFL as a promising but lesser-known third-round DE/LB out of Akron in the 1997 draft.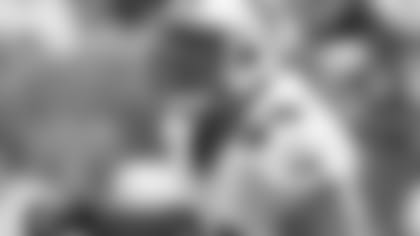 After spending an injury-marred 2008 with the Redskins, it was announced earlier today that Taylor has signed a one-year deal to return to the Dolphins and the AFC East — and back into the consciousness of Jets fans everywhere.
"My heart has always been in Miami, and so I'm truly excited to call myself a Dolphin once again," Taylor said in a statement. "I was presented with a number of different opportunities, but in the end the combination of this being the best situation for my family, my love for this community and my tremendous loyalty to a great organization made this an easy decision."
As recently as last month, Taylor rekindled those fires with the fans he loves to hate when he was asked if, in keeping with thin rumors of Jets interest in talking with him, he could see himself wearing green for the last year or two of his career.
"It'd be very, very, very difficult," he was quoted as saying. "But at the end of the day, if you can't find a job anywhere else and the Jets call, I guess you've got to retire or go play. ... But the Jets are the Jets. I've had a lot of history saying bad things about Jets fans. The fireman hat guy ["Fireman" Ed Anzalone] and all of the people in New York that are Jets fans are not the ones that are working on Wall Street. I've said all of those things. So I've got to leave it at that."
I always thought that besides being one of the NFL's top defensive gladiators of the past decade and a half, he also had a little bit of pro wrestler in him. He just seemed to enjoy jawing with Jets Nation, then going out and dropping the Jets' runners and sacking their throwers.
Be that as it may, assuming everything goes smoothly in his transition into Tony Sparano and Paul Pasqualoni's defense, I don't expect fans to cut him much slack in front of their TVs on Monday night, Oct. 12, when the Jets play at Miami, and especially when he returns to the Meadowlands three weeks later on Nov. 1.
But maybe in your hearts you could take timeout to give JT a little thanks — for bringing some extra passion into the already passionate Jets-Fins rivalry, and for not doing the foxtrot up I-95 to Foxboro to sign with the Patriots.
Here are the top five Jets opponents in sacks and tackles for loss/no gain from 1995-2008:
| | | | | | |
| --- | --- | --- | --- | --- | --- |
| Player | Team(s) | Sacks | Player | Team(s) | TFLNG |
| Jason Taylor | MIA | 16.5 | Zach Thomas | MIA | 22.0 |
| Willie McGinest | NE-CLE | 9.5 | Jason Taylor | MIA | 19.0 |
| Richard Seymour | NE | 8.0 | Willie McGinest | NE-CLE | 16.0 |
| Rod Coleman | OAK-ATL | 8.0 | Tedy Bruschi | NE | 13.0 |
| Mike Vrabel | NE | 7.5 | Pat Williams | BUF-MIN | 11.0 |