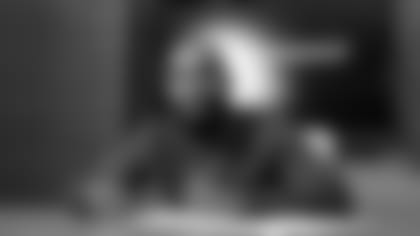 While the Jets signed perhaps the biggest free agency fish in running back Le'Veon Bell, general manager Mike Maccagnan added another versatile offensive weapon to quarterback Sam Darnold's arsenal in shifty slot receiver Jamison Crowder.
"The value I bring to the field is being a guy [Darnold] can target," Crowder said. "Mostly, I've had success in this league in the middle of the field using my short-area quickness, being able to find zones in the defense and win man-to-man matchups. That's what I think I can bring to this offense and I'm excited. I'm looking forward to it."
The four-year veteran said the direction the Green & White is heading was a big appeal to play in the Big Apple. In addition to believing in Jets head coach Adam Gase and his ability to put players in the right positions, Crowder expressed trust in Darnold's ability.
"I think he's a great player," he said of the 2018 No. 3 overall pick, who Pro Football Focus graded as the top signal caller in the final quarter of the season. "Last year, he was young. Just from what I've seen, I definitely think he'll be a great player, great quarterback in this league. It also had an effect on me to come here. He's very talented and last year he was able to get his feet wet, get some experience. I'm looking forward for him to have a big season this year."
Over the last three seasons, the 5'9", 177-pound Crowder has averaged 64 catches, 747 yards and four touchdowns with five different quarterbacks under center in Washington. The former fourth-round pick (No. 105 overall) is fully healthy after missing eight weeks last season with an ankle injury and is eager to work with new teammates, some of which are fellow free agent additions.
"You have guys like Le'Veon Bell and C.J. Mosley, guys that're proven in this league and are Pro Bowl guys, top-tier guys," Crowder said. "I'm just glad to be a part of the team and being teammates with those guys. Just looking forward to coming out, working every day and getting ready to play with those guys."