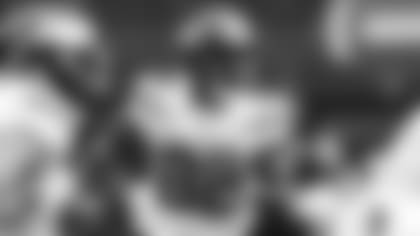 With the Jets on hiatus until playing at New England on Oct. 24, wide receiver Jamison Crowder offered a kernal of veteran advice, particularly to the team's young players.
"I just tell the young guys they need to understand the position we're in," said Crowder, who is in his third season with the Green & White and seventh in the NFL. "We're not 5-0 or 2-3. We're 1-4. By no means take a vacation at all. Go somewhere and let your mind relax, get off football for a bit. For us to be better coming out of bye, we need to lock in on things we need to work on individually and as a team. Take this time to reflect on how to come back a better player."
On Sunday in London against Atlanta, Crowder played in his second game of the 2021 season after testing positive for COVID-19 then dealing with a groin injury that kept him sidelined until the Jets' overtime victory against Tennessee earlier in October.
"Personally, I definitely don't need the bye week," he told Bart Scott and Dan Graca on the latest installment of "Inside the Jets." "It was just my second game back. I definitely need time to be out on the field. I'll take it now. I know some guys need it to reflect and evaluate. I know it will be a grind. The bye week is here, it is what it is. Once it's over it's going to be a grind."
On Tuesday, rookie QB Zach Wilson indicated that he would take a bit of Crowder's advice and travel home to Utah to spend time with his family, watch the first five games of the season and work a bit with the QB guru John Beck.
"I haven't seen them for a while," Wilson said about this family. "Get away from football, clear my mind and be ready to come back and be after it when I come back next week."
Crowder caught four passes for a modest 24 yards against the Falcons, plus a 2-point conversion pass from Wilson that cut the Jets' deficit to 20-17 in the fourth quarter. Crowder was part of the offense for 34 plays (61%). The Jets suffered through a slow start and have yet to score points in the first quarter through five games. A play that stood out as an example of the challenges faced by Wilson was when the QB shortarmed a pass on a bubble screen to Crowder, bouncing it in front of the receiver, with open field ahead. Wilson said that he was "too robotic" in some of his throws.
Wilson along with some other rookie QBs -- Trevor Lawrence, Mac Jones and Justin Fields among them -- have been experiencing growing pains as they settle into their professional careers.
"I think, obviously, it's the kind of society now that doesn't allow young quarterbacks to develop," Crowder said. "We all know this is a tough league. Rarely do guys come in and make an instant impact, every guy has to develop. The quarterback position is one of toughest, if not the toughest out there and to be in control on Sundays, sometimes a lot of people expect young quarterbacks to come in and be that guy. You have to develop, take what defense gives you, make sure you can make the short throws, then when a big play comes, take advantage of it."
Since breaking into the league with Washington in 2015 out of Duke, Crowder has been a steady and reliable receiver playing in the slot. In 86 games, he has 369 receptions for 4,245 yards (11.5 yards per catch average) and 27 TDs. His most productive season came in his first one with the Jets (2019) when he played in 16 games and grabbed 78 passes for 833 yards and 6 scores. In just 12 games last season, he had 6 TDs and also became only the third different Jets player in the last 52 seasons to record three consecutive 100-yard receiving games.
Over his career Crowder has made himself into a valuable option for every quarterback he's played with because of his ability to get open for critical short passes and his consistency in hauling in medium shots, either over the middle or on the flanks.
"I feel like me personally I'm good," Crowder said. "Zach thinks I'm in a good place, we made some big connections against Tennessee. Yesterday [Sunday] was tough for everybody. It's not too hard for me to get in a rhythm or connection with the quarterback because of the routes I run -- not a lot of deep ones, short, intermediate. A lot of times it's not hard to find a guy like me in the middle of the field or on a quick out. Our timing is there, we just have to connect more."