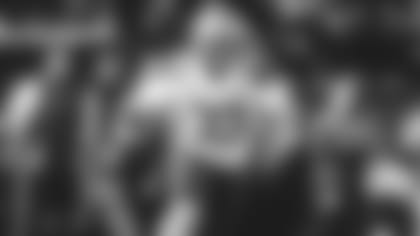 Despite back-to-back losing seasons, safety Jamal Adams is trusting the process and has faith that brighter days are in store for the Jets.
"We're one team, one heartbeat. It's not just in this locker room. It's the organization, it's the building," he said. "Everybody in that building is together. We have to be on the same page for this thing to turn around. We can't turn it around by one group doing this and one group doing that. Then we have tug. That's not what we want to do. We want to be on the same rope pulling the same way."
The second-year safety isn't accustomed to losing, so it shouldn't be a surprise that he was upset with the Green & White's 2018 final record.
"It sucks, man. We ended the season 4-12. It's not my standard, it shouldn't be the Jets' standard," Adams said.
With over $100 million in cap space, the Jets are expected to be active in free agency. However, Adams believes there's more to the equation than money.
"You have to win. You have to create a culture around here for free agents to come," Adams said. "Free agents don't just come to losing situations and things that are going negative. They want positivity, they want something they can look forward to. They want a team that's striving to get to that Super Bowl. We just have to keep working. We have to get better and it has to be now."
The LSU product said rookie quarterback Sam Darnold will help lure free agents to the Green & White but there are "more pieces to the puzzle." Despite strong words postgame, the second-year player clarified it's nothing against his teammates.
"Great teammates of mine, great brothers, and we have talent," he said.
Similar to last year when Texans safety Tyrann Mathieu was on the street, Adams said he plans on recruiting players to join the Jets.
"When you recruit, some people say they don't believe in their team, but that's not it," said Adams, who marveled that two years of his NFL career have already "flown by." "I'm just trying to maximize an opportunity because this game runs out of time. It doesn't wait for anybody, so opportunities like these go by like that."