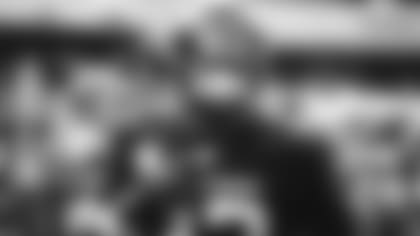 After his performance against the Giants that included a team-leading nine tackles, two strip-sacks and a touchdown that earned him AFC Defensive Player of the Week honors, Jamal Adams was not satisfied.
So, what would a better performance down the road look like?
"Special," he said. "I don't know, I can't tell you. I just have to do it.
"I thought I could've been way better and that's just how I hold myself, to a high regard," he said. "My coaches know that as well. They're not shocked, they understand we have to keep going. It's in the past. We're moving on. We have a great team we're about to face and hopefully as a team, we go out there and play better ball."
The 24-year-old has previously expressed his will to become not only one of the game's current top safeties but to change the position. Growing up in Texas, Adams didn't look up to one player. Instead, he admired a group that included Troy Polamalu, Brian Dawkins, Bob Sanders, Ryan Clark and LaRon Landry.
Luckily for Adams, Jets defensive coordinator Gregg Williams knows a thing or two about transcendent safeties. The 61-year-old, who first broke into the NFL in 1990, coached the late Sean Taylor with the Redskins, the Jets' opponent this week, from 2004-07 and has referred to Taylor as the best player he's ever worked with.
Williams said Adams has both the physical and mental abilities to excel, but his instincts are what separated him from other safeties. As a coach and a teacher, he consistently pushes the 2017 No. 6 overall pick to maximize his potential.
"He's been very good at every level he's played at," Williams told newyorkjets.com's Olivia Landis. "Is he great at this level? He's not there yet and that's what I keep on telling him. But you know what? He takes challenges well and those are ways that we as coaches motivate. I believe that every good player wants to be taught or coached, motivated and inspired. That young man craves all those things and when he gets them, look out.
"He's just scratched the surface. He's going to continue to get better also and it's going to be fun to be on that ride with him."
Adams also licks his chops for any top-tier competition. This weekend, the 6'1", 213-pounder is excited to line up against future Hall of Fame RB Adrian Peterson, who's rushed for 491 yards on 115 carries at 34 years old. While Adams lives for the premier matchups, he's equally eager about facing another NFC East rookie QB in Dwayne Haskins, the No. 15 overall pick in April.
"Yeah, it's exciting. I'm not going to lie to you," he said. "But Dwayne is a hell of a player, a guy that's going to lead that offensive group, a guy that can throw it and definitely make plays, so we have to do a good job of slowing him down.
"He wasn't drafted high for no reason. He can make plays and we have to do a good job of switching up different looks to give him. We have to come out and play better ball than last week. We took a step further today in practice."