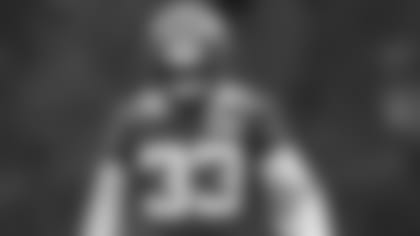 Jamal Adams had a simple, yet strong message inside the locker room this week as the Jets quickly turned the page after last Sunday's win over Oakland.
"Our focus is on Cincinnati," said Adams, the third-year safety.
The Jets are currently riding a three-game win streak after taking down the Raiders at home, 34-3. The streak is the team's longest since 2017. The Bengals (0-11) have struggled on offense. They rank 26th in the league in yards per game (303.2) and 28th in yards per play (4.78) compared to the Jets' defense, which is tied for 8th in yards allowed per game (321.1) and 4th in yards per play (4.89).
They will also face a hefty challenge in the Green & White's No. 1 overall run defense.
But Adams isn't letting the numbers dictate his view of the competition.
"It doesn't matter what the record is for those guys and it doesn't matter what the record is for us — it's another opportunity," Adams said. "Any team in the NFL can be beat. You have to show up each and every Sunday, Monday, Thursday or whatever it is, and go out there and compete because you can see around the league that if you don't show up, you get beat down."
Over the past three games, the Jets have established a rhythm on offense, racking up two games of 400 yards or more with only one turnover (INT in WAS). The team has also scored 34 points in each of the last three contests, with 12 of those points coming from Adams and cornerback Brian Poole as they each returned an interception for a touchdown. Overall, the team has picked up tempo in all phases.
"I think we're playing smarter as a team, I'll put it like that," said Adams. "We're just playing complementary football, not digging ourselves in holes and just playing off one another."
Despite the excitement from recent victories, the Jets are still applying what Adams refers to as the "24-hour rule," in which the team can be excited about a win for 24 hours, but after the focus must be on the next opponent. Though the Bengals' record is less than imposing, the approach is the same.
"It's our mind-set as a team and an organization," said Adams. "It's not one person in particular, it's a team mind-set"