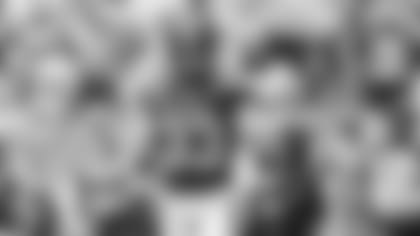 In the Jets' 26-18 loss to the Miami Dolphins, the defense struggled against the pass as former Jets QB Ryan Fitzpatrick took advantage of a banged-up group, completing 66.7% of his passes for 288 yards and three touchdowns.
"It was very tough to take another loss but you have to give credit to them. We came out and battled but we didn't play all four quarters good as a team. We have to play as a team," said safety Jamal Adams, who recorded four tackles, two stops for loss and one sack. "It was a defense of miscommunication. I'm not going to put the blame on myself or them. We've just got to be better as a team and playing off one another. I think we had great moments, but at the same time, I feel like we shot ourselves in the foot. We can't do those things."
The Jets were flagged 10 times for 105 yards, three of which came against the defense. Leading up to Week 9's matchup in South Florida, Jets defenders reiterated the importance of getting off the field on third down, but 'Fins converted on 50% (6-for-12) of their third-down tries and scored touchdowns in three of their four trips inside the red zone. The Dolphins 36-year-old QB started to heat up in the second quarter and went on an unanswered 21-point run that gave the home team a 21-12 halftime lead. Fitzpatrick spread the ball around the field and completed passes to seven different receivers.
"I really don't know, man. I feel like us in that back end, we have to win our one-on-one battles. I think everyone has to do a better job at that," said Adams. "At the same time we've got to play complementary football and play team football for four quarters."
Despite the end result, the defense had flashes of success in the Jets' fourth road game of the season and second in as many weeks as they tallied a season-high four sacks. Rookie defensive lineman Quinnen Williams kicked off the pass rush with his first full sack of his career on Miami's second play from scrimmage, and linebackers Jordan Jenkins and Brandon Copeland and Adams followed with sacks of their own. The team also racked up nine tackles for loss and battled three balls down at the line of scrimmage, and LB James Burgess was credited with a safety by stopping Fitzpatrick on his own goal line late in the first half. The Green & White continued to be strong against the run, holding the Dolphins to 50 yards on 24 carries (2.1 yds/att).
"Like I said, give the Dolphins credit. I'm happy that we can get better moving forward. I'm happy that we're playing our dream of everybody's in here, and I'm happy that nobody got seriously injured," Adams said. "That's something positive that we can take from it. We can also learn from the film, but like I said, we have to play better team football."
As the now 1-7 Jets continue their endeavor to find success, Adams stands firm in his mission to keep the locker room together.
"It's tough. All you can do really through tough moments is keep your head down and grind. And as well as this team, we just have to stay together as a group," he said. "There can't be certain groups in the locker room splitting up. Everybody just needs to stay together as a brotherhood because that's what it's about. It's never going to be about anybody else but us."