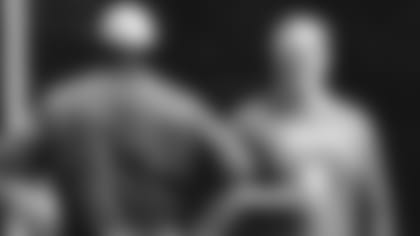 The Jets haven't made the postseason since 2010 and they would have to get very hot in the season's second half to play this January. General manager Mike Maccagnan can't get to the dance soon enough, but he has to make sure every move he makes has the organization's best short and long-term interests in mind.
"The goal is the playoffs," he told reporters Thursday. "If you don't make the playoffs, are we moving the team in that direction?"
With his team 3-5 at the midway point, Maccagnan was active on the phone before the NFL's trade deadline Tuesday afternoon.
"I literally called — with the exception of maybe the teams in the division — pretty much every team in the league at some point of time," he said.
But with plans to be very active in free agency next spring, Maccagnan wasn't looking for quick and potentially costly fixes. There are some contenders built for long runs now and draft capital might not be valued as much while they make impact moves that potentially could push them over the top. The fourth-year Jets general manager liked some players out there, but he wasn't interested in deals that could potentially hurt him a few months down the road.
"If you're going to spend a lot of money and lose players, you're probably not going to get any compensatory picks," he said.
For years, the Jets had searched and searched for a quarterback. Maccagnan masterfully maneuvered this offseason to get in position to draft USC QB Sam Darnold and the rookie signal caller has been good early in his career.
"You want to build a team with a young quarterback who can be your guy going forward and kind of augment and build things around that," Maccagnan said.
The 21-year-old Darnold has passed for 1,705 yards while completing 55.2% of his throws with 11 touchdowns and 10 interceptions. He has processed the offense well and been able to go out on the field and make quick decisions. His vision has been impressive and Darnold is an instinctive player who can make plays with his feet inside and outside the pocket.
"From early on, he's always been very steady and very cool under pressure," Maccagnan said. "He's had good games and he's had some rougher games, but we really like his progress and how he's developed. There still is a lot of football left to be played for him going forward, but I think initially, we're very positive and we're very excited about what he can be."
Darnold has been unflappable in the face of adversity as top wideouts Robby Anderson and Quincy Enunwa have battled injury and veteran running back Bilal Powell was placed on injured reserve with a bulging disk in his neck. The Green & White are 3-5 for a third consecutive season, but the landscape has changed dramatically. The Jets were floundering with Ryan Fitzpatrick at the helm in 2016 and the future was murky in 2017 with Josh McCown having a career year and Bryce Petty and Christian Hackenberg unbale to make significant jumps. Now the Jets have their quarterback of the now and beyond and Maccagnan will have the resources to build around Darnold.
"We have a lot of things in place, that with a successful offseason, we can actually put ourselves in a position — where I think with that amount of cap space and cash in free agency along with our draft picks — we could be in a position in our mind to really springboard this thing forward," he said. "We feel good where we are, but it's just part of the process."
In addition to landing Darnold in April's draft, Maccagnan also selected immediate contributors in DL Nathan Shepherd, TE Chris Herndon, CB Parry Nickerson and RB Trenton Cannon in Rounds 3, 4 and 6. He has been encouraged by the development of a pair of third-year pros ILB Darron Lee and RT Brandon Shell and he likes what he has seen out of ILB Avery Williamson, a 26-year-old who joined the Jets in free agency.
"I think we've done some good things in the draft," he said. "I think we've augmented that through pro free agency and right now we have a good young core to build with going forward."
The Jets are green and that is part of the plan. They will continue to experience growing pains and learn from each experience. Maccagnan wants to win now but acknowledges it takes time to build and develop things.
"We are a younger team in terms of the average age of our starters. Depending on what the lineup is any given week, we're anywhere from 3 to 8 in the league in terms of the average age of our starters being young," he said. "But that's also a good thing because it gives us a chance to build what we always sort of thought was a good core going forward to kind of position this team in a way that can kind of grow together and be a young team and hopefully be a successful team."
The vision is taking shape. After winning 10 games in 2015, the Jets kept the band together again and a number of very good players got older and a few bodies broke down before our eyes in 2016. Then the Jets pivoted in 2017, cleaning up the books and focusing on culture while Josh McCown provided some enormous leadership and stability. But to have sustainable success in this league, you need a quarterback who can play at a high level and for a long time.
It would be foolhardy to say the hard part is over for Mike Maccagnan, but he's already made perhaps the most critical step of them all. He doesn't have to look far for a reminder.
"I was literally sitting in my office earlier and I noticed the first guy to run out to practice today was Sam Darnold maybe going out 20 minutes before everyone else to go get warmed up," he told reporters today.
Maccagnan worked the phones at the trade deadline, but the timing wasn't right. He is sticking to his plan and just getting warmed up for the spring.
GM Mike Maccagnan will be a guest on Practice Today presented by SiriusXM LIVE on nyjets.com, Facebook, YouTube, Twitter and the Official Jets App presented by M&T Bank on Friday, Nov. 2 at 10:15 a.m.