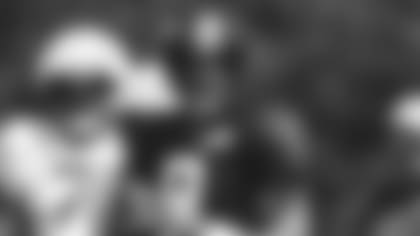 The speculation is over and the Aaron Rodgers Game Experience is just beginning. ARod will be the starting QB and make his Jets game debut in their annual summer battle with the Giants on Saturday night. And from what head coach Robert Saleh said earlier this week, it could be for more than just a hello/goodbye opening series.
Further, all of this is AOK with ARod.
"I used to enjoy playing in the preseason back in my younger years," Rodgers said after he and HC Robert Saleh came to a quick meeting of the minds. "Maybe just to take that first hit or feel the nerves in the first drive."
And if, as Saleh said, "I don't want to throw him out there for a series and get him out," Rodgers could be in for his first multiple-drives summer game since 2017 with the Packers.
Here are some more trivia tidbits from Rodgers' first 18 pro preseasons, all as a Green Bay Packer.
ARod's Rocky Start
Rodgers' first games as a pro in 2005 — all in relief of Brett Favre, of course — were underwhelming. In his first Packers appearance, vs. San Diego in the '05 preseason opener, he completed two of six passes for 7 yards, was sacked twice, and his five drives produced five punts, four of them 3-and-outs. At least in his fourth summer game, he connected on his first pro TD pass, a 12-yarder to TE Ben Steele.
Starting to Show His Stuff
His first starts as a Packer in 2008 — with Favre moving on to the Jets — began on a similar quiet path. But in the final two preseason games that year, he began to show what the ARod Cheesehead Era would look like. In Game 3 at Denver, he completed 18 of 22 for 193 yards and a touchdown, ran for his first pro TD on a keeper, and generated four scores on five drives. In the finale vs. Tennessee, Rodgers was on the Lambeau field for one drive ... one play ... one pass ... and one TD strike of 68 yards to Greg Jennings. His passer rating for that game, not surprisingly, was a "perfect" 158.3.
Hot Time in 'Zona
For Rodgers and Green Bay, 2009 was a hot, crazy summer, particularly in Game 3 at Arizona, when he piloted six first-half drives and produced four TDs, three of them on scoring passes, in the Packers' 44-37 win over the Cardinals.
The Cobb Connection
Rodgers and old Green Bay teammate Randall Cobb have connected on 52 touchdown passes over the years — 45 in the regular season since 2011, five in the playoffs, and two scores in a pair of preseason road victories, for 3 yards at St. Louis in 2014 and 6 yards at San Francisco in '16. And they could hook up again in Saturday's game "at" the Giants.
The Rogers Ratios
Rodgers' regular-season TD passes-to-interceptions ratio is an unconscious 4.56-to-1, the best in NFL history, and No. 2 (Patrick Mahomes at 3.92-to-1) isn't even close. Maybe it's surprising, maybe not, but ARod's preseason TDs-to-INTs is even better. It's 5.50 in all 42 of his summer games, and 8.67-to-1 for his 30 starts since 2008.
The Bottom Lines
Since 2008, but with no preseason starts since 2018, Rodgers' numbers have been, well, Rodgersesque. His passer rating is 114.2, his 33 TDs produced on 92 drives calculates to a scorching 35.9% TD drive rate, and consider that he and GB engineered 292 summer points in his 589 offensive plays as a starter. That means Rodgers' Packers offenses produced a half-point per play. And the Pack's record in his starts, even considering he never played more than a half in most of them, is a respectable 18-12.
Now You See Him, Now You Don't
It's been a long time since the Jets and Giants first met, in that "unimportant" yet very significant 1969 preseason game at Yale Bowl after the Jets' Super Bowl III triumph. How significant? Joe Namath and the Green & White starters on both sides of the ball played until midway through the final quarter of the Jets' 37-14 win over Big Blue.
Ever since, the Jets and all NFL teams have been whittling down the amount of game snaps their first units take on summer fields. And Rodgers is one of the primary examples of that. Consider that until he takes the field against the Giants, Rodgers hasn't played in a preseason game since 2018, Game 2, when he started, went one series and produced the first touchdown in the Packers' 51-34 win over Pittsburgh.
He also hasn't played in a preseason finale since 2011 and '12, both starts coming in home victories over Kansas City. And he hasn't played in a second half in any preseason game since 2008, the above-mentioned Game 3 donnybrook at Denver.