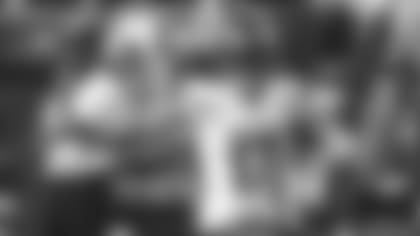 The Jets rode the NFL roller-coaster in 2022, not from week to week but from roughly their first half to their rough second half. That left them with lots of highlights and areas of strength for next season but also with lowlights and areas in need of beefing up this offseason.
Here are some peeks inside the numbers of each of the team's three units, with one graph on a facet of the unit that needs work (leaving the QB position aside for the time being) and one facet that sparkled all season and should be good to glow in 2023:
Youth Will Be Served
The offense saw outstanding and promising contributions from many young players. WR Garrett Wilson thumbed his nose at the "rookie wall" concept and mowed down one Jets rookie record after another: 83 receptions to eclipse Wayne Chrebet's 66 in 1995; 1,103 receiving yards to surpass Keyshawn Johnson's 844 in 1996; three 100-yard games to topple Al Toon's two in 1985.
Then came "1-2-3," the three offensive forces whose seasons were cut short before they got going. Rookie RB Breece Hall and second-year G Alijah Vera-Tucker both left the Denver game with season-ending injuries. Still, Hall showed his dynamic skills — he's the only Jet, never mind rookie, with a 60-yard rush and a 60-yard reception in the same season, and he takes a streak of four games with at least one rush TD into the next season.
He'll join AVT, who showed his amazing versatility with starts at three different OL positions — three at RG, one at LT, then his final three at RT before leaving the Broncos with an elbow injury — and by mammoth third-year LT Mekhi Becton, who knows how big '23 will be for him and his teammates. These are some sturdy pillars on which to build up the offense.
Steady that Line
Remember when offensive lines needed five years to jell together? That timeline shrank to three years, two years, then just one full season? The Jets have struggled to get a half-season for one five-man unit to play together the past two years and develop consistency.
This season, 12 different O-linemen saw action in the Jets' 17 games. Eleven of them started at least one game, nine played at least 100 snaps. The Jets started nine different OL combinations, and not one quintet put together more than three consecutive starts.
GM Joe Douglas, an old lineman himself, knows this instability has an undeniable impact on the effectiveness of both the run and the pass games. "In an ideal scenario, you've got your starting five and all of them are playing together all year," Joe D said. "Maybe that's not realistic, but that's going to be the goal moving forward."
Turning Up the Pressure
We all know the individual feats of derring-do by Quinnen Williams, Carl Lawson, Sauce Gardner, D.J. Reed, C.J. Mosley and others. But probably the most impressive thing the Jets defense did was finally rush the passer with authority. Their 45 sacks were tied for seventh in the NFL and was their most in eight years. Their 120 QB hits led the league and are their most in at least the last two decades. With the front four and back four operating often in concert, their opponents' combined passer rating was 80.5, second only to the Bengals' 80.1
Those numbers can be even better if the general manager listens to the head coach. "There's a lot of really good things to look at, and I try to keep the main thing the main thing and look at all the things that we did build," HC Robert Saleh said. "And I'm really excited about our young core, really excited about the defense, because I do think we're going to get a lot of those guys back, if not all of them — make sure that happens, Joe."
Gives and Takes
Turnovers are known to ebb and flow, but not like they did for the Green & White. The tide came in fairly nicely for the first nine weeks with 14 takeaways, tied for sixth-most in the league. Over the last eight games, they had only two takeaways. Only one TA in the last six games, and that on a strip sack. No interceptions over those last six, and only one DB pick over the last eight (the last INT of the season was by C.J. Mosley vs. Chicago). As a result, the Jets' turnover margin went from plus-2 to minus-7 over those final half-dozen games.
DC Jeff Ulbrich was asked each week about where the turnovers went and he detailed the drills and tough talk the coaches instituted to try to turn the spigot back on, to no avail. It will take more of those drills and more players with the approach that CB Sauce Gardner says he wants to take in year two after his glorious rookie season:
"I just want to work on being a better teammate," Gardner said. "I want to work on getting more takeaways, intercepting the ball, forced fumbles. Anything I can to help the team."
Honey of a Returner
Braxton Berrios' return averages weren't quite what they were in his '21 All-Pro season but they were still good. His 11.4 average was fourth among punt returners with 20-plus returns. His 23.1 average was eighth among kickoff returners. And Honey Nut Berrios is as sure-handed as they come, having not lost one fumbled kick in the last three seasons.
And let's not forget that with his 2-yard toss to Zach Wilson at Pittsburgh, Berrios joins Brad Smith as the only Jets with at least one rush TD, one receiving TD, one kick-return TD and one passing TD in his Jets career. Versatility personified.
More Unhappy Returns for Opponents
The Jets' punt-return defense wasn't horrible but it was up and down all year. P Braden Mann did some fine punting, extending his touchbacks-less streak to 12 games through Green Bay and finishing with a flourish of four inside-the-20s and a 48.2 gross and net at Miami.
But Mann also had two three-TB games and too many shanks. And the coverage teams allowed a pair of return TDs, both of which stung bad — Marcus Jones for the win at New England and Kalif Raymond to get things started vs. Detroit.
The Jets allowed 11.3 yards/return, 30th in the league, and Mann's averages, as good as a 46.9 gross and 40.6 net used to sound, were 16th and 24th respectively in the NFL. You know coordinator Brant Boyer is already at work on getting those numbers back where he wants them.