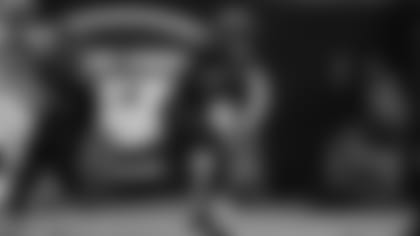 The Jets entered Monday night's game against the Browns already shorthanded on defense and they were forced to go deep into their reserves in Week 2. Gregg Williams, who had spent the previous two seasons calling plays for the Browns, had his unit in attack mode from the opening whistle despite suffering more personnel losses along the way.
"Gregg (Williams) said it best, you have to be mentally tough for this," said defensive lineman Steve McLendon. "You have to be built for this. Nothing is going to be given to us, everything is going to be earned. It hurts but you just can't give up."
There was a surprise starter at cornerback as Nate Harison, acquired from the Colts in an August trade, lined up in place of Trumaine Johnson. Hariston responded with three first-half tackles including a stop of RB Nick Chubb behind the line of scrimmage. He also upended TE David Njoku with a pop that separated the tight end from the ball but was flagged for a critical fourth-down holding infraction that kept the Browns' first touchdown drive alive. Darryl Roberts, who started opposite Hairston, had five tackles and a fourth-quarter interception.
Minus Mike linebacker C.J. Mosley due to a groin injury, the Green & White went to an inside tandem of Neville Hewitt alongside rookie Blake Cashman. The Minnesota product, a fifth-round pick, collected five tackles in the opening 30 minutes and finished with a total of six, one of which he stopped Chubb two yards behind the line of scrimmage. He later collected a pass defense when he put his paw up to knock down a Baker Mayfield pass and later brought down Mayfield, along with DL Bronson Kaufusi, in the fourth quarter for his first career sack.
"It was great to be playing a lot of football, that's why I'm here," Cashman said. "We definitely understand that it's next man up and no matter what role you have on the team — everybody from coaching staff, players, to the front office — when you step between the white lines, you're expected to do your job and do it right. That's a responsibility that I have."
A thin linebacker group took another hit when OLB Jordan Jenkins exited with a calf injury and will undergo an MRI Monday. Jenkins, who tied for the team lead with seven sacks last season and racked up a strip-sack in the opener, was forced to give way with Tarrell Basham receiving a lot of his reps on the outside. Basham, in his third season from Ohio, sacked Mayfield for a 10-yard loss in the second quarter. His penetration in the third stanza set up Hewitt for the club's second sack of the night.
The dam finally broke in the third quarter. After the home club appeared on getting right back in the game, the offense was stopped short on a fourth-and-2 inside the red zone. And on the ensuing play, Mayfield found a streaking Odell Beckham Jr. as the star wideout slipped between Hewitt and nickel corner Brian Poole. The scoring reception went for 89 yards and made it a 20-point game.
"It definitely sucks starting like this," Jenkins said. "We've had a lot of injuries. A lot of guys have been forced to handle a bigger workload than they have in the past. Some guys are fresh out of college. The young guys will have to step up until we get everyone healthy."
The Jets performed well on third down, holding the Browns to a 31 percent conversion rate (4-of-13) and Mayfield was sacked three times and hit on six occasions. The run defense also held up well without Mosley, limiting Cleveland to just 3.3 yards per carry. But Beckham accounted for 161 yards on six receptions and Mayfield was able to amass 325 yards on just 19 completions. 
"We're going through a lot of adversity right now. People are hurt and things are just not going our way, but that's not an excuse," safety Jamal Adams said. "We have to go out there and execute. We didn't execute on both sides of the ball. We just have to be better."