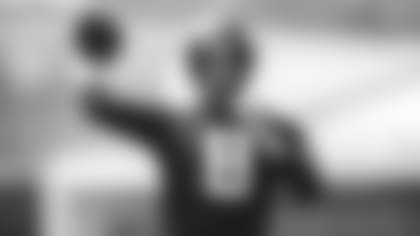 Throughout the offseason, NewYorkJets.com reporters Eric Allen, Ethan Greenberg, Randy Lange and Caroline Hendershot will each give their predictions to a series of questions regarding this year's Jets.
Today's question: How many yards and touchdowns will Aaron Rodgers throw for in the 2023 season?
EA: In Green Bay from 2008-22, Rodgers started at least 15 games in 13 of 15 seasons. In those 13 campaigns, Rodgers averaged 4,193 yards and 34 touchdowns. A legendary decision-maker, Rodgers also averaged a mere 7 interceptions during that time. In terms of Jets history, Joe Namath is still tops for single-season yardage (4,007 in 1967) while Ryan Fitzpatrick has the single-season TD high (31 in 2015). With an averageRodgers season,I expect the future Hall of Famer to set Jets franchise marks in yards and TDs. Not far removed from the 2020-21 MVP seasons when he was paired with Jets OC Nathaniel Hackett in Green Bay, Rodgers averaged 4,207 yards and 42 TDs in that memorable run. Put me down for 4,250 yards and 34 TDs for the four-time NFL MVP who has thrived in this system and with this coach, and also is surrounded by weapons headlined by an emerging superstar in Garrett Wilson.
EG: The floor, to me, is 4,008 yards and 32 touchdown passes. Those would surpass franchise records -- Joe Namath's 4,007 passing yards in 1967 and Ryan Fitzpatrick's 31 TD passes in 2015. That could sound surprising considering Aaron Rodgers threw for 3,695 yards and 26 touchdowns last season in 17 games with the Packers. Rodgers, however, was playing with a broken thumb and Green Bay struggled out of the gate before heating up in the back half of the season. In his back-to-back MVP campaigns in 2020 and 2021 with current Jets OC Nathaniel Hackett, Rodgers threw for 8,414 yards, 85 touchdowns and 9 interceptions, which is an average of 4,207 yards and 42.5 TDs. Those are ridiculous numbers. I'm not saying Rodgers will revert to his MVP form, but the Green & White offense has the talent for Rodgers to put up big numbers. Since becoming a starting QB in 2008, Rodgers has not eclipsed 4,000 passing yards three times when he played in at least 10 games – 2010, 2015 and 2022.
RL: I'd like to see Aaron Rodgers better his own career highs in touchdown passes and yardage, which were 48 TD passes in 2020 and 4,643 yards in 2011. But why be greedy? It would even be neat to see Rodgers barely top (in 17 games) the Jets' franchise marks in those categories — Joe Namath's venerable 4,007 yards in 14 games in 1967 and Ryan Fitzpatrick's 31 TD tosses in 16 games in 2015. Consider that Rodgers has come in with at least 4,008 yards and 32 TD passes in six seasons in his storied career. Then also consider that if Rodgers clears that double hurdle this season, he would be far from alone. Since 2020, NFL quarterbacks have reached those levels in a regular season 19 times. Those 19 teams averaged more than 11 wins a season, 15 of them reached the playoffs and five played in the Super Bowl. So even a mere "very good" Rodgers season in those bellwether statistics would be a very good harbinger for the Green & White in '23.
CH: I think Aaron Rodgers will throw for 4,100 yards and 30 touchdowns. Excluding last season, when he was playing through a thumb injury on his throwing hand, Rodgers has thrown for more than 4,000 yards since 2018 (he only played 7 games in 2017 and threw for 1,675 yds). Over the span of his 18-year career, Rodgers has thrown an average of 3,280 yards and 26 TDs. With the offensive weapons Rodgers has on the Jets I think he will easily surpass 30 touchdowns. The offense added a lot of depth to every position to give Rodgers plenty of options. Not only will he be throwing to the 2022 Offensive Rookie of the Year Garrett Wilson, he has former teammates Allen Lazard and Randall Cobb in the receiving group as well.Among running backs, the Jets added Izzy Abanikanda in the draft and Breece Hall will be back from his ACL injury. With the tight ends, the Jets have Tyler Conklin, who led all the tight ends last season with 3 TDs, returning; Jeremy Ruckert is likely to have a bigger role in his second year; and draft pick Zack Kuntz is an inviting target at 6-8 that will help in the end zone. Rodgers should have ample time to throw behind a beefed-up offensive line. Mekhi Becton, Duane Brown, Alijah Vera-Tucker and Max Mitchell are all returning after dealing with injuries last season.