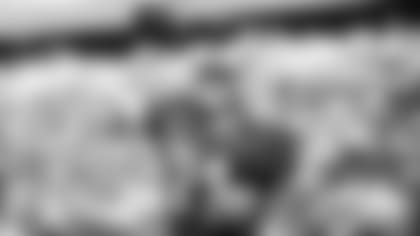 Throughout training camp,NewYorkJets.comreporters Eric Allen, Randy Lange, Ethan Greenberg and Olivia Landis will each give their answers to a series of questions regarding this year's camp.
Today's question: How Has Jets QB Sam Darnold Progressed in His First Week?
EA: The progression has been fast. There will continue to be speed bumps along the way, but the rookie is a quick learner. When you watch Darnold, you come away equally impressed with his feet and his arm. Jeremy Bates has gotten him (along with Josh McCown and Teddy Bridgewater) on the move with rollouts and bootlegs and the rookie looks to be at home when in motion. In fact, veteran wideout Jermaine Kearse said Saturday night that the USC product is just as accurate on the move as he is in the pocket. Darnold made some big-time NFL throws Saturday night, unleashing a laser across the field to tight end Clive Walford and later putting a deep ball into the hands of speedster Jonah Trinnaman. Forget the fact that Trinnaman was flagged for a push off because the ball was perfect. A third-down scramble from Darnold showcased his timely decision making and wheels. He is seemingly always in motion, taking little steps in the pocket to find throwing lanes and buy himself time. Preseason action will tell us more, but I think Darnold will get better when the lights come on. There is a steadiness about him that you like, but don't let that smile fool you. Darnold loves to compete more than anything. I expected maybe a little slower start out of the gate, but Darnold's been good and he appears to have quite a ceiling.
RL: Sam Darnold's accuracy seemed to me to have improved through his first three practices last week and then at the Green & White practice, when he hit 9 of 11 with no INTs (but no TDs) in team drills. Now as he grows into Jeremy Bates' offense and builds stronger relationships with his receivers, I would expect us to see more chunk-play and scoring-type connections with wideouts, for instance on 9-routes and on deep outs. He also has to make sure he's got the center snap down cold — he lost a snap late in the third period of Saturday night's practice. What I've been most impressed with besides his increasing accuracy are his decisions on the move. He rolls out smoothly to both sides and made some great decisions on when to tuck it and run, especially on the 9-yard run and slide to convert third-and-2. Sliding seems like it should be an easy skill to master for a QB, but how many QBs have we seen who slide late or badly or not at all and get hurt to boot? Darnold on the strength of one night seems like he's got the slide scoped out.
EG: Darnold's progress is evident despite being with the team for only a week, which is a testament to his study habits. Josh McCown and Teddy Bridgewater had head starts because of Darnold's late arrival, but he's catching up. From last Monday's practice to Saturday, you could see an improvement in his decision making. As former Jets TE Anthony Becht said Saturday at the Green & White practice, the West Coast system that Jeremy Bates is running is all about reading man and zone and getting the ball out of the quarterback's hands. If it's not there, there is a check down available. Between Darnold's first practice and Saturday's Green & White, you could see he has a better grasp of the system, which is helping him make better decisions. There's still a lot left of camp and the defense will continue to install more complex looks, but I'm encouraged by his progress in such a short span.
OL: If it weren't for the national headlines, it would be really difficult to tell that Sam Darnold missed the Jets' three practices of training camp. Based strictly off of watching him play, Darnold's progression throughout his initial five practices has been evident. His development shined the brightest in the Green & White practice at Rutgers' HighPoint Solutions Stadium last Saturday. Not only did he complete high pressure passes in the pocket, but he showed his mobility and continued to be accurate on the run. In front of a big crowd, Darnold completed 9 of 11 passes for 89 yards. I think what's most impressive about Darnold is his maturity and poise, which he demonstrates both on and off the field. I would say that's solid progression in Week 1 for a 21-year-old rookie.