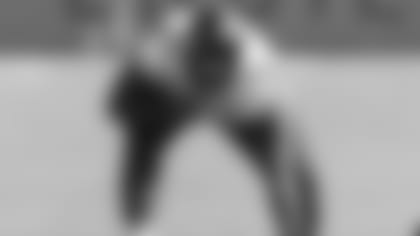 NFL.com — Chad Reuter: A
"Becton is a people-mover. Guys weighing over 360 pounds should not bend and move like he does. If Lamar Jackson was still in Louisville, everyone would have been slobbering over Becton all year long. He has experience on both sides of the line because the Cardinals have flipped alignments in the past, so the Jets can play him across from George Fant at right tackle. They needed to upgrade the line, and now they have via free agency and the draft."
Sports Illustrated — Andy Benoit: B+
"By the end of last season, the Jets were playing with four backup offensive linemen. The point? They need more O-line talent. Becton has that. He's the largest man to enter the league since right tackle Trent Brown. He played left tackle at Louisville, and plugging him in there would let ex-Seahawk George Fant, who was signed [in the offseason], play right tackle, where he's probably better suited. Becton might have some pass-blocking mechanics to clean up, but he should be a Day One starter."
CBS Sports — Pete Prisco: B
"Here's the thing on Becton, he's a freak athletically. He has a tendency to get really heavy and that's a concern. If he can keep his weight in check and be dedicated to his craft, he's going to be a good football player."
NBC Sports — Nick Goss: B
"Louisville tackle Mekhi Becton is among the strongest players in the draft at 6-foot-7 and 368 pounds. He should help provide much-needed pass protection for Jets quarterback Sam Darnold and open lanes in the rushing attack for veteran running back Le'Veon Bell."
Bleacher Report — Mike Tanier: A
"You may have seen Becton pushing a truck in a viral video in March. You may also have once pushed a truck all by yourself. Seriously, it's not all that hard. I did it to my beat-up old Sonoma a few times as a younger dude; Nowadays, I get winded behind a shopping cart. At any rate, Becton ran a 5.1-second 40-yard dash at 364 pounds and bench-pressed 23 reps of 225 pounds at the combine, two things neither you nor I have ever been capable of.
Becton can swallow pass-rushers who let him latch on, and at times, he simply swatted linebackers and defensive backs aside with a casual flick of his arms.
Becton also has better quickness and leverage than you would expect from a man his size. But he was an odd fit in a Louisville offense that often had him moving laterally or cut-blocking along the backside instead of just walloping the man in front of him. There's lots and lots of tape of a 350-pound road-grader trying to play like a 270-pound Alex Gibbs-style zone blocker, and the results were often suboptimal.
'It's just fun seeing a man on the ground every play and then going to jump on him,' Becton said at the combine. 'That's what I love about the game.' That's what we love about Becton's game, too. He has the potential to be a special lineman if the Jets just let him haul off and shove defenders all over the field like they were nothing more than (midsize) pickup trucks in neutral.
Sam Darnold and the Jets QBs were sacked 52 times last year and the team averaged 3.3 yards per rush."
USA Today — Luke Easterling: B
"The Jets have some solid veterans at both tackle spots, but they needed a long-term solution, particularly on the left side to protect their investment in Sam Darnold. Becton is a massive mountain of a man who destroys his opponents and tosses them out of the club on a regular basis. Questions about a flagged drug test at the NFL Scouting Combine clearly didn't keep the Jets from spending a premium pick on him. Becton has some boom-or-bust to him, but the upside is massive. He's Darnold's franchise left tackle. Tristan Wirfs was higher on my board, but Becton may be a better fit on the left side."