David Harris has never basked in the spotlight. While polite and friendly, one of the top defenders in Jets history grudgingly accepts interviews. During an on-camera catch-up this week, Harris was asked about the 85 tackles he needs to become the second most prolific tackler in franchise history.
"It may cross my mind every once in a while. But at the end of the day, I just know if I go out there and just do my job, that will come," says Harris, who should pass Mo Lewis (1,231) on the team's all-list in 2016. "So I'm not going to go out there pressing… No I'm not going to go out like that. I'm just going to go out there and do my job and if I pass it, I pass it this year. But that's not in my mind right now."
Harris, who again paced the Jets with 128 tackles last season, has led the club in stops and reached the 100-mark in eight of his nine professional seasons. He again will be counted on heavily as the Todd Bowles era reaches Year 2. Last season, the Jets finished 4th overall defensively including 2nd against the run, 3rd on third down and T3 in takeaways.
"We're way further ahead because we have guys who played in it last year," Harris said of the unit coordinated by Kacy Rodgers. "Last season, Bowles had to install it and we were all first-year players. It was a new system, nobody really had played in this defense except one guy (Antonio Cromartie). So we had to learn it a little bit slower, but everything's going good. We are out here, going through walk-throughs and making all the checks and corrections that need to be made to make sure everybody is on top of their things."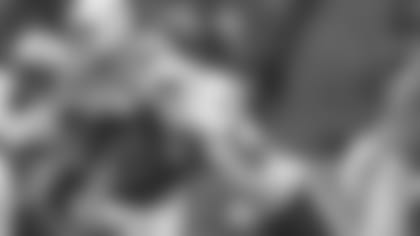 While Harris remains a mainstay at the Mike, the Jets will have a new opening day starter at their "Mo" position on the inside. Erin Henderson, who played in a rotation late last season with Demario Davis, moved atop the depth chart when the former singed a free agent deal with the Cleveland Browns.
"Sometimes it can be hard if you're not the starter, coming off the bench in spot roles because you're not really adjusted to the flow of the game as a starter. But he came in and we never missed a beat,"  Harris said of Henderson. "He made a lot of plays and he made a lot of tackles for the amount of snaps he was in there. He didn't have any mental errors, he knew what to do and he's a very physical linebacker. He comes downhill and he's a vet, he knows football, which is a huge plus."
And the Jets have high hopes for Darron Lee, a first-round pick out of Ohio State who is initially expected to back up Henderson at the "Mo" spot. While Harris — a long-time admirer of Michael Jordan —  gives Lee some grief about his hoops preferences, he does like the rookie's approach to football.
"It's going good. Right now, it's the NBA playoffs and he's a huge LeBron James fan," Harris said of Lee. "We go back and forth about that, but as far as football it's good. He's a fast learner, he's very wide-eyed and he's eager to learn. And he's spent a little bit more time with the coaches, trying to make sure he's 100% with what he's doing."
In addition to the landscape change at linebacker, the Jets defensive front has undergone some alterations as well. After nose tackle Damon Harrison departed to the Giants in free agency, the Jets rebounded with a pair of quality value moves in NT Steve McLendon and DL Jarvis Jenkins.
"If you know Steve, he's always doing extra. If it's before or after the walk-throughs or lifting, he's always doing something extra to try to improve himself," Harris said. "He's a vet as well, he played a lot of ball and Jarvis is pretty much the same way. He's very athletic. They both are very athletic, they can move up front, they can play interchangeably along the defensive line, which is a huge plus for us."
Next week, the Jets will start Phase 3 of the their offseason program. The club will be permitted to have 10 OTAs over a four week-span, which means NFL rules permit teams to be on the field for 3.5 hours during those day sessions.
"It's picking up, the workload. We've pretty much installed the playbook thus far for this part of the season," Harris said. "And we're just hanging out, working, working out, trying to get as strong as possible and looking to maintain our gains and improvements throughout the summer."