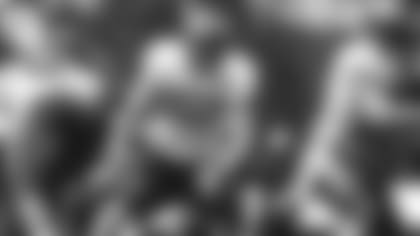 After reporters peppered Jets' offensive lineman Greg Van Roten with football inquiries on Wednesday at the Atlantic Health Jets Training Center, they got down to important business more than a week ahead of the Jets 2021 regular-season opener at Carolina on Sept. 12.
"Which restaurants would you recommend?" came the question for the guy who played for the Panthers from 2017-19.
What came next was Van Roten's best imitation of a Yelp review as he rattled off a list of some of his favorite places for food and drink in the Charlotte area.
What ended in jocularity masked the important task at hand for GVR, 31, and the rest of the "ridiculously young" (in the words of head coach Robert Saleh) Jets. The interview session began when Van Roten was asked how it feels to be the oldest player on the team's (active) roster. (Vinny Curry, who is out for the season is 33.)
"That's weird," he said. "I didn't realize I was the oldest. Considering how I started [playing on four NFL teams and one CFL club before landing with the Jets] to be the oldest on any roster is surreal. I guess I've got a lot of experience when it comes to helping a team get to where it wants to go. I've been on good teams and not so good teams. You try to take bits and pieces from everybody and you try to get the most out of all the people in the room."
That "room" of offensive linemen is peppered with youth (rookie Alijah Vera-Tucker and second-year man Mekhi Becton) and experience (in addition to GVR, OT Morgan Moses has been in the league eight seasons, and center Connor McGovern and OT George Fant six seasons each). It's the youthful talent and savvy veteran brains that have been charged with protecting and nurturing rookie QB Zach Wilson.
"I think he'll be fine," Van Roten said. "He's a rookie in name only. He prepares so well, he watches so much film. I've watched film with him and how he filters things. He's teaching me stuff about how to prepare for an opponent. Now it's up to us as a line, as a unit to block guys, give him time to let guys get open, let him make plays and not put the game solely in Zach's hands. Our job is to keep him clean and be able to run the ball to make his job easier."
GVR is the first to admit that he's taken laps around the pro football block. In Green Bay, he got to visit his first stop; later this season he'll get a shot at Jacksonville, which cut him in 2017 before he played a game for the Jags; and then there's the Panthers -- the stop before he returned to his hometown team -- Van Roten grew up on Long Island.
At Carolina, the Jets will be facing the quarterback who GVR spent time trying to protect last season. Sam Darnold was traded to the Panthers in the offseason.
"I'm excited for Sam," he said. "I want to beat him. I hope he does well, just not against us. He's in a good system for him. In Sam's first year down there I want him to do well, but not so well against us. I wish him nothing but the best.
"I'm excited to be going back to Carolina, it's where I made my breakthrough after my stint in Canada. Not much is the same from when I was there, other than the uniforms. I enjoyed my time there. I'm looking forward to a nice dinner in Charlotte and playing in front of fans."