Rookie Minicamp Photos Day 2


Rex Ryan gave a great scouting report of Shonn Greene, the Jets' third-round draft pick, as both a runner and a receiver.
"I love the way guys bounce off of him," the Jets head coach said at his just concluded news conference between today's early and late rookie minicamp practices. "He goes rolling in there and guys are going flying. It doesn't matter who it is. An offensive teammate went flying today. He hits that hole, and this is a big man coming through there. He runs low. He's just a big old rascal. But they do, they bounce off him."
"Unfortunately," Rex added, "some of the passes bounce off him."
Ryan provided an exchange between QB Mark Sanchez and Greene after one dropped pass.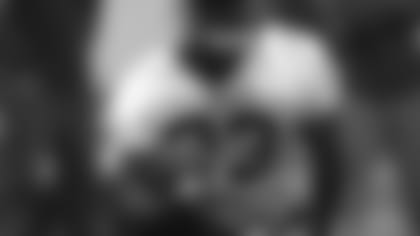 Sanchez: "Sorry, I should've put that on the other shoulder."
Greene: "I just don't catch very well."
"At least the kid's honest," said Rex, who isn't worried about that part of the Iowa product's game. He said RBs coach Anthony Lynn is staying on Greene during practice and working with him after practice.
"Those are things we can work on," said the coach. "I think he'll get better with his pass-catching and his pass protection also."
Westerman's Transition Game
Ryan likes what he's seen from Jamaal Westerman of Rutgers, who is in the beginning stages of his transition from DE to Sam LB.
"A lot of times when you have a defensive lineman used to having his hand in the dirt all the time, the transit to a linebacker spot is difficult," the coach said. "The biggest part of it sometimes is the mental part of the game. You start talking coverages, that's totally foreign to a lot of those guys. But he picked it up better than any of the other linebackers.
"And we knew he had some physical traits that we really liked. He loves to play, a passionate guy, good motor, was coached well, physical player. I think when the pads come on, he's actually even going to raise his level.
Ryan heard that Westerman turned down an offer from another team that was more than $10,000 better than the Jets' offer.
"He just liked our style of play and he knew he kind of fits that kind of temperament," Rex said. "He wanted to be a Jet and we were proud to take him.
"He definitely has a chance."
Today's workouts are both outside. The morning was cloudy with some rain spritzes but the afternoon looks to be sunny and cool.
Sanchez continues to do little things that impress. For instance, he can catch the ball one-handed. And I don't mean by trapping it. When he and fellow rookie QBs Chris Pizzotti and Casey Dick were throwing on the side, a coach would lob the ball 20 yards back to him and he put his big right mitt up and caught it like it was a Nerf ball sticking to Velcro. One could see where that skill might come in handy with an errant shotgun snap.
As for his throws, it wasn't a big fireworks practice but there were some good connections.