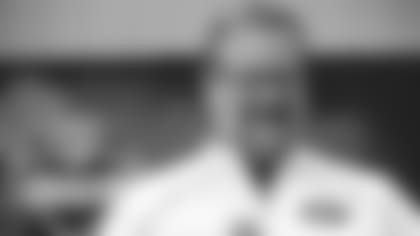 Almost a full calendar year after trading up to get the No. 3 overall selection, Jets GM Mike Maccagnan is open to trading down from No. 3 this time around.
"If we end up picking a player at No. 3, we'll feel very good. But if there's an opportunity for us to move back and acquire more picks, that's definitely something we'd be potentially interested in if it's the right kind of deal," Maccagnan told reporters on the first day of the 2019 NFL Combine. "I definitely wouldn't rule anything out at this point. Whatever we can do to help build the team to the vision we have for it — either one guy at (No.) 3 or multiple options if you move back with other opportunities — that would bode well for us."
While Maccagnan doesn't want to make drafting at No. 3 an annual occurrence, the reason he has the opportunity this year is the Jets didn't part ways with a 2019 first-rounder in last year's St. Patrick's Day exchange with the Colts. In sending his No. 6 pick and trio of second-rounders to Indy, Maccagnan positioned himself to grab a quarterback and ultimately land USC QB Sam Darnold in April.
"We felt pretty comfortable that it would be hard to get ahead of us because we paid a pretty good price for it, we felt what was a slightly above average price to get the pick with the extra two," he said. "But we didn't give up a future one and we felt very good about it."
Quarterbacks typically drive the top of the draft, but there are questions whether a passer will go in the Top 5 this April. Most pundits believe Oklahoma QB Kyler Murray and Ohio State QB Dwayne Haskins are the most talented of the group and Murray seems to be gaining buzz by the day. The former Oakland A's first-round pick followed Baker Mayfield at Oklahoma and kept the Heisman in Norman, OK while displaying great accuracy with his arm and blazing speed with his feet.
Last year, Maccagnan couldn't afford to wait until April to make a move for a quarterback. Will another team feel the same way in the weeks or months ahead?
"We have charts, we have trade values. My personal opinion is if you're trying to go chase a quarterback, it's sort of whatever the market is but then some," said the Jets GM in his fifth season at the helm.
Minus a second-round pick, Maccagnan has a pair of third-rounders after sending Teddy Bridgewater to New Orleans in August. He may have the option of picking a very good player at the top of the draft for a second consecutive year or moving back and acquiring more capital in a draft that has impressive depth at a number of positions. The top names being talked about at the top of the draft include Edge rushers Nick Bosa (Ohio State) and Josh Allen (Kentucky) as well as Alabama defensive tackle Quinnen Williams.
"Right now we feel good at No. 3," said Maccagnan. "But I would definitely say if there's an opportunity to trade down, we'd absolutely look at it. There's nothing that's transpired at this point in time."