Here's a number flash: Vernon Gholston is trading in 56.
Gholston will henceforth be seen in and known as No. 50.
Why the change? Ohio State fans know why: That was Vernon's number as a Buckeye, when he did quite a bit of Big Ten sacking in 2006-07, helping him rise to his lofty status as the sixth overall pick of the 2008 NFL Draft.
Of course, Eric Barton used to be 50 since arriving as a Jet in 2004, but now he's with the Browns. The opening that Gholston needed. His unis and locker should be changed over by Wednesday.
We're not suggesting a number change will turn a player into a Pro Bowler, but it can be a small, subtle part of an NFL makeover, something that Gholston is undergoing now under new head coach Rex Ryan and new coordinator Mike Pettine and with new teammates around him, including new ILB Bart Scott.
"I'm just letting my eyes do our evaluation," Ryan said during last week's veteran minicamp. "What I see out there right now, Vernon is a New York Jet and I'm happy he is. Watch him out there these last few practices you guys have been out there, you see how he's flying to the football and making some plays."
Clowney's Site Adjustment
David Clowney's enthusiasm is infectious, and now he's got his own Website that could be addictive, at least for a few minutes. He's got a photo gallery, a fan area, and even a newly christened blog.
What could he be blogging about? Let's just say Kris Jenkins has gotten some cooking competition in the Jets' locker room.
Party Addition to Draft Day Lineup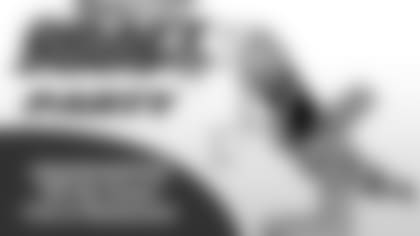 I know a few of you New Jerseyans have inquired about a Jets draft day party in your neck of the woods. Well, we searched for a spot in the Garden State and we've found a perfect one.
The Jets will host a Draft Day Party at The Grasshopper Off the Green at 41-43 Morris St. in Morristown, N.J. on Saturday, April 25. The party will run from 3-7 p.m., which will cover much of the televising of the draft's first round. Two Jets players and two Jets Flight Crew members are scheduled to appear from 4-7 p.m., and there will be Jets giveaways.
So draft on and party on, Jersey.