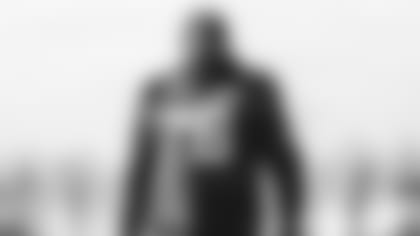 George Fant said that he's exactly where he wants to be.
"I want to be here for the rest of my career," he told reporters during a video call on Wednesday.
The other part of the equation is where, exactly, the seven-year NFL veteran is likely to line up on the Jets' offensive line. He's played both right and left tackle, and found himself quickly flopping from right to left in Week 1 at Carolina last season when Mekhi Becton sustained what proved to be a season-ending knee injury.
"Obviously, I'd like to have one spot and stick with it," Fant said. "I feel I'm a natural left tackle, I'm more natural on the left. I'm going to do all in my power to stay there, but I can only control what I can control. I'll do everything I can, I'll do all I can, but I can't worry too much about it."
With Becton out last season, the offensive line was often challenged in trying to protect QB Zach Wilson in his rookie season. With Fant, 29, on the left next to rookie guard Alijah Vera-Tucker, the Green & White was able to solidify Wilson's blind side. This season, it is possible that Becton could be on the move, to the right, again next to Vera-Tucker. It could be a kind of young side (Becton and Vera-Tucker) and veteran side (Fant and Laken Tomlinson, signed in free agency) on the left.
"George Fant stepped in at that left tackle spot, did a wonderful job and he's earned the right to be part of that discussion at left tackle," HC Robert Saleh said at the Senior Bowl in January. "I've told George he's got a chance to maintain that position. It's the same thing for Mekhi. He's got to come in and he's got to reassert himself into the starting lineup."
Becton has worked this offseason with offensive line guru Duke Manyweather and he is awaiting the birth of his child in Texas.
"We talk every now and then," Fant said, referring to Becton. "I haven't really jumped on a phone call with him. He's down in Texas training with a really good trainer and also having his baby. We definitely need to give him some space."
Fant left Seattle to sign a three-year contract with the Jets in free agency in April 2020. As he said, he'd like to remain a Jet for the rest of his professional career.
"We've definitely had some conversations, I know my agent has talked to the Jets," he said. "Obviously, we're not rushing now. When it happens, it happens. Right now, I'm just focused on getting to know the new guys and become a better leader and a better football player."
In 15 games last season (all starts), Fant took 90% of the snaps on offense, 887 snaps in total -- the most of his NFL career. He was a solid basketball player at Western Kentucky before switching to football as a tight end. The Seahawks worked him out at multiple positions including linebacker, defensive end, defensive tackle, tight end, and offensive tackle, and signed him after a single workout.
His strong play last season might have surprised a lot of people, but HC Robert Saleh and Fant were not among them.
"I appreciate it any time you get the head coach and the front office and the building in general complimenting you on your hard work," Fant said. "To be able to showcase your ability is always a great thing. I appreciate it. All I can do now is continue to work on my game, continue to grow and become a better player."
The addition of Tomlinson has put the Jets in good position up front as they head into draft weekend with nine selections including four in the top 38.
"Honestly, when you look on paper that line looks legit all the way across," Fant said. "When you watch the film, you know what he [Tomlinson] is about, a great player in the run and pass game. A good dude. I'm looking forward to having him on the line with us. Most definitely, this line is good enough to win. I think this line is built for what we're trying to do. To win."
And whether he's looking over his shoulder at Wilson from the left side or the right side, Fant is confident that the second-year QB is poised for a breakout season.
"He's my guy," Fant said. "He came back with a little more swagger, ready to go. I know he's had a good offseason so far, and I'm excited to see what he's been working. He's been talking to and working with the receivers and talking to the O-line. I know he's excited for next season. He definitely came back with something a little different."