When Laura V.'s teachers would ask her what she wanted to be when she grew up, her answer was never anything too specific but always something grand.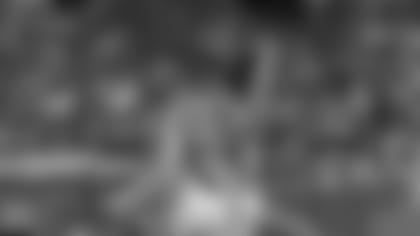 "I always wanted to be something big," this week's Gameday Girl said. "A Rockette, a movie star, anything like that, but I never wanted to settle."
She was 19 years old and headed toward the mall in the back seat of her mom's car when her cellphone rang. Her former high school kickline coach, Denise Garvey, was starting up a cheerleading team for the Jets and wanted to know if she would be willing to audition.
Growing up a fan of the Green & White in Wantagh, N.Y., Laura was ecstatic. She auditioned and made the team, becoming one of the original 10 Flight Crew members in 2007.
Not knowing how they would be perceived, the group wasn't even allowed to be called cheerleaders that first year, she recalls. "We didn't even have pompons, just rally towels," she said. "We were taking baby steps to make sure that people would want us there."
The fans responded receptively, and the Flight Crew took off.
Laura's set to begin her seventh season with the team this Sunday when we host the Tampa Bay Buccaneers at MetLife Stadium. As one of two members remaining from the original Crew, Garvey, the Flight Crew's director, knows she can count on Laura to serve as a role model for the 33 other members of the squad.
"Laura is a team player who has become an integral part of our squad as a senior veteran," Garvey said. "She can speak to the rookies about her experiences and can convey the level of commitment and hard work that is necessary to be successful and remain successful on the Flight Crew.
"She understands that it is a privilege to wear the uniform, and that the opportunity of touching her toes to the turf for each home game over the past seven years is something that is earned, never expected."
The greatest privilege of the job, Laura says, is getting to attend occasions such as Marty Lyons' charity events for terminally ill children.
"There's nothing more rewarding and humbling," she said. "You just feel so great knowing that here they are sick, but all they see is good and happiness in life."
With things to do year round, representing the New York Jets as a Flight Crew cheerleader has become a lifestyle for Laura, not just a job. And as someone who is "not a sit-behind-a-desk, 9-to-5 girl," she loves it.
"Every year is a learning experience for me, and I never stop growing," Laura said. "I wouldn't change anything over the past seven years that I've been here."
For those who will listen, Laura has some advice: "Continue to strive for your dream and for what you want and never give up the hard work because the reward is always closer than you think."
She wanted to be something big. She stayed persistent. And her dream came true.
Now the lifestyle continues and Laura couldn't be happier.