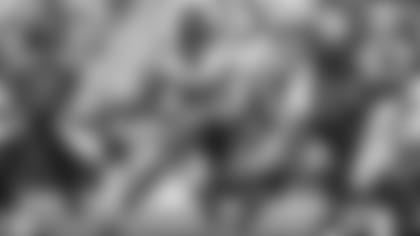 Buoyed by the return of their quarterback, the Jets finally grabbed an elusive first victory of 2019 last weekend with a 24-22 home triumph over the Cowboys. But at 1-4, they still have a ways to go to dig themselves out of an early hole and the ultimate challenge awaits Monday night at MetLife Stadium. Beating a talented Cowboys team on a two-game slide is one thing, but taking down the undefeated, defending champion Patriots is another story altogether.
"The smartest team will win," said veteran Jets NT Steve McLendon. "It's not about the most physical team because you can beat them up physically, but all they're going to do is wait for you to make one mistake and they're going to capitalize off of it."
On paper, the Patriots have few, if any, weaknesses. Throughout their 6-0 start, the Pats lead the NFL in scoring defense (8.0 Pts/G), total defense (234.7 Yds/G), third-down defense (13.7%) and takeaways (16). This might be the be Bill Belichick's best 'D' and the Jets saw them firsthand less than a month ago, totaling six first downs and 105 total yards in a 30-14 loss. The offense went 0-of-12 on third down and went without a point as the visitors benefited from a rare Pats' special-teams miscue and Jamal Adams took advantage of rookie quarterback Jarett Stidham with a late pick-six.
"They play man coverage, they play it well, they play tight," said Jets head coach Adam Gase of a group featuring cornerback Stephon Gilmore, rangy safety Devin McCourty and versatile 'backers Jamie Collins, Dont'a Hightower and Kyle Van Noy. "They're almost daring you to beat them — it's just hard to beat them. When you're playing against, if not the best corner, one of the best corners in the league, the rest of those guys do a great job of working well together. It's kind of one of those things where there are a whole bunch of different looks, but there is some similarity there. They do a good job of putting the quarterback in doubt on what to do. They're tough to beat down the field and it's just hard to get plays on them."
But the Jets didn't play that first contest with Sam Darnold. The second-year signal-caller woke up a dormant unit in Week 6, repeatedly torching the Cowboys down the field while connecting to seven different targets to the tune of 332 yards passing and two touchdowns through the air. In Darnold's six starts since late last season, he has completed 66% of his passes, thrown for nine touchdown passes against only two interceptions and has posted a 98.5 passer rating.
"Their defense is good, they have been all year," Darnold said. "But, just like any other team, they're not unbeatable. So we just go out there, find the weakness in the defense and keep working it. That's what we're going to do on Monday night."
Last week, receivers Robby Anderson (5-125-1TD), Jamison Crowder (6-98) and Demaryius Thomas (4-62) combined for 15 catches, 295 yards and 1 TD. Yet the Jets offense, which will eventually get another threat back in TE Chris Herndon (hamstring), won't be completely dynamic until more space is created up front for RB Le'Veon Bell. The star back, limited to 63 yards on 22 offensive touches in the teams' first meeting, has made the most of what he's had in five games to date and his presence helped Gase and Darnold open up the play-action game against the 'Boys.
"You have Sam in the backfield and you have him (Bell) in the backfield — you can be very dangerous. Depending on what the defense wants to do, we can hit it here with handing the ball to two-six or if you want to throw it up — one-four is going to get the job done," said LG Alex Lewis. "It's awesome having a guy like Le'Veon back there who knows how to make cuts, how to set up blocks for linemen, whether it's pushing it on like a wide zone and setting up the blocks, so the 'backers start overflowing on top and then cutting underneath the block. That stuff you can't really teach, it's just natural ability and he's got it."
Darnold, who said this week that he believes the offense has the potential to be "unstoppable" when Herndon returns, spoke about the importance of the run game in terms of identity.
"We want to be a run-first team and if we can just run the ball, that'll set up the pass and we have explosive players on this team and guys who can make plays," Darnold said. "If we get the run game going and the play-action off of that, then we can score a lot of points."
"We'll get better," said the ever-positive Bell. "I think as long as I continue to run hard and those guys continue to do their assignments and stay on guys, we'll get better as time goes on,"
After excelling with their offensive quarterback last week, the Jets are on the verge of getting their defensive quarterback back just in time to face Tom Brady and Co. Mike linebacker C.J. Mosley, who hasn't played since suffering a groin injury in Week 1 against the Bills, declared that he's playing Monday barring any kind of setback.
"He's a playmaker that we love to have out there," said safety Jamal Adams, who cemented the team's victory over the Cowboys with an instinctive blitz to prevent a two-point conversion. "He's a guy that we feed off and he feeds off other people on the defense."
The Patriots have fed off the rest of the AFC East for close to two decades, capturing the past 10 division titles. They've appeared in four of the past five Super Bowls and won three of them. And while Tom Brady is the most decorated quarterback of all time, the Pats are currently on pace to shatter the league record for fewest points allowed. But five of the last six Jets-Pats games played at MetLife Stadium have been decided by seven points or fewer and look beyond the record of the Green & White because the roster looks dramatically different than the club the Pats faced at Gillette Stadium on Sep. 21.
"I feel like we're moving in the right direction. I've been talking about getting the ship sailing in the right direction and we're starting to slowly turn that ship," Bell said. "I remember about three or four weeks ago when everyone was saying I was crazy when I made that tweet. Now everybody is trying to look and see it a little bit. So it's going to be fun."