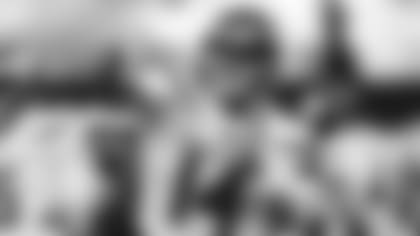 After playing four quarterbacks during their season's first quarter, the Jets will begin the season's second quarter against the Dallas Cowboys with their franchise quarterback ⁠— Sam Darnold ⁠— back behind center. Already in an 0-4 hole, the Green & White have pointed all their focus towards a talented 3-2 Cowboys team that is looking to put an end to their own two-game losing skid.
"It's really about getting the next one, it's really a one game at a time mentality and that's how you have to look at in this league," Darnold said two days after being medically cleared to play for the first time since being diagnosed with mono on Sep. 1o. "And if we continue to look it like that and stack wins, I think we'll find ourselves in a good position."
The Jets offense had little life without Darnold. After the second-year signal-caller and the offense accounted for six points against a stout Buffalo defense, the unit was held to nine points in losses to the Browns, the Patriots and the Eagles. They yielded 19 QB sacks during that three-game run that culminated in a 10-sack total from the Eagles last Sunday. Teams have stacked the box in order to neutralize Le'Veon Bell and dared the Jets to beat them down the field while sending numbers at the quarterback.
"Hopefully I can go out there and do my thing: throw the ball where it needs to be thrown, be able to check the ball down if I have to and go make plays when it's necessary to do that," Darnold said. "I'm just going to go out there and continue to play football the way I play but also stay within the offense and stay within myself."
Darnold, who started with riding a bike and walking before resuming practice last week, had originally targeted last weekend for his return. But Falk handled the majority of snaps in the Green & White's 31-6 loss at Philly as the visitors were held to just 128 net yards while going 3-of-14 on third down. The dynamic changed dramatically for the offense once Darnold's spleen shrunk and he received favorable blood tests.
"He has the ability to get the ball out quick, has the ability to move. If he breaks the pocket, he's a threat, he's a threat to run," said head coach Adam Gase. "His pocket feel too, he's played with those guys quite a bit to where he feels things and he's out of there. He has a good feel of what to do in the pocket."
Darnold has the potential to wake up a dormant passing game. While he will have to wait for the return of TE Chris Herndon, the second-year signal-caller developed great chemistry with Robby Anderson last December and he connected with slot wideout Jamison Crowder 14 times the first time the two played together. Ten-year veteran Demaryius Thomas, who has 693 career receptions and 9,376 yards receiving, is eager to line up with Darnold for the first time in game action.
"The main thing is taking control of the huddle and being a leader. He can make every throw, he can make every check and point out the hot which is good," Thomas said. "He can expand the play. He can run, he can throw it down the field, he can throw it on the run and not a lot of guys can do that."
The 6'3", 225-pound Darnold, who will wear extra padding around his ribcage Sunday, missed three games his rookie season after suffering a foot injury in Week 9 against the Dolphins. He had some rust in his return to action in a Week 14 contest in Buffalo, but he rallied the visitors for his first come-from-behind victory in the fourth quarter.
"There's nothing like Sunday. Going out there and playing the first couple of series will be a little bit of a shock to the system I guess you would say, but I think I'm going to be ready," he said. "Hopefully after those couple of series, I'll feel right at home."
Le'Veon Bell could benefit greatly from Darnold's emergence. Bell, who has totaled 372 yards on his 98 offensive touches, has been the primary focus of each Jets' opponent as they have crowded the box. If the Jets can connect on some balls down the field, Bell will have more room to maneuver.
"We can't expect Sam just to go out there and be Superman," Bell said. "We know he's a great player and he can make a lot of plays but guys still got to do their jobs.
"We still have to protect him, still have to make plays for him. We have to make sure we get all the calls in," he continued. "Everybody's got to line up and make his job easier, so he doesn't have to get too much. He has to shake off a little rust, you know?"
After a year off, Bell has not shown any rust to date. He'll take aim at a Dallas defense that is yielding 4.4 yards per carry and surrendered four rush touchdowns to Packers RB Aaron Jones in a 34-24 loss last week to Green Bay. Regardless of whether it's Darnold through the air or Bell on foot, the Jets have to avoid third-and-long situations that has plagued the club all year. The Cowboys also can provide the heat off the edge with Robert Quinn (3.0 sacks) and Demarcus Lawrence (2.5 sacks).
"They're a good team. They fly around, they have a lot of good players and they utilize the linebackers and the secondary," Thomas said of a group whose leading tacklers are 'backers Jaylon Smith (45) and Leighton Vander Esch (41). "There are some things we think we can take advantage of, but we have to come together as a group on our side of the ball and convert."
The Jets defense will be try to put together a complete performance against a Cowboys offense ⁠— led by the trio of RB Ezekiel Elliott, QB Dak Prescott and WR Amari Cooper ⁠— ranked No. 1 overall (452.8 Yds/G) and tied for ninth in scoring (26.2 Pts/G). Darnold has talked of going on a run, but the Jets will need to scratch and crawl for a first victory.
"We just to have a one game at a time focus, we can't go past that," Gase said. "The good thing is, the first quarter is over, starting the second quarter, what are we going to do this quarter? We have four games coming up. We have two home games, two road games, let's worry about, how we can win this one? Put all our efforts into that and focus on that game."