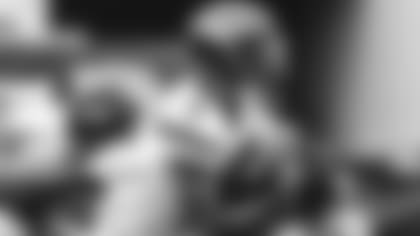 While a matchup between the 1-6 Jets and the 0-7 Dolphins won't be the NFL's marquee attraction Sunday, Jets wideout Robby Anderson couldn't be happier about the thought of returning to his native South Florida for the AFC East contest.
"I love it," said Anderson, who attended South Plantation HS, about playing in the area where he grew up.
The Jets received inquiries on Anderson prior to the trade deadline, but they stuck with their 6'3", 190-pounder and he expressed his gratitude throughout the week. Declaring that he'll give his all "to the end" and that he won't give up on his mission, Anderson couldn't take the smile off his face. And while he's been saluted by Jets Nation for his positive reactions, Anderson couldn't think of a better place for a next game than Miami.
"It's like where everything all started. When I was in little league and I played football, I wished I was in the NFL," he said. "It's just the feeling in the air there, the smell of the grass. And then it's everybody that I want to be there can be there. They don't have to watch me through the television. It's just a different energy."
In six dates against the Dolphins, Anderson has recorded 21 receptions for 318 yards while averaging 15.1 yards a catch with three touchdowns. He'll get his opportunity Sunday against a decimated 'Fins secondary that is without Pro Bowl cornerback Xavien Howard and recent trade addition Aqib Talib and will likely be minus safety Reshad Jones (chest). Including Jones, Miami has listed six defensive backs on its injury report. Anderson, who has 40 career catches of 20+yards, has the ability to provide instant offense for a Jets team that is in need for long gainers.
"I just feel when I'm able to provide those plays, it gives an energy," Anderson said. "When you have that person who has that big-play capability, it just gives everybody that energy and people feed off of that and that's what I love being able to do. That's what I strive to do."
Keeping the likes of Anderson, RB Le'Veon Bell and S Jamal Adams at the deadline, Jets GM Joe Douglas did strike one deal, sending DL Leonard Williams crosstown for a pair of draft picks. It seems like ages ago that the Jets had a 16-0 second-half lead over the Buffalo Bills in Week 1. They've played four quarterbacks and shuffled different offensive line and inside linebacker combinations out seemingly weekly due to injury. The latest blow came this week when Blake Cashman, a fifth-round pick from Minnesota, injured his shoulder and was placed on injured reserve.
"What you saw after that (the lead over Buffalo) was a team that got floored a little bit, got knocked on the canvas, and unfortunately hasn't been able to pick themselves up. So, that's part of the growing process," Douglas said. "As a team and as an organization, (we have to) be able to handle adversity. I think you guys have heard me talk about it before, every game, every series, every year — there's great adversity that happens in this league and the best teams are the teams that can handle any adversity. So, I think we have a lot of work to do when it comes to that, together, as a group."
Much like Anderson, Bell took to social media following the trade deadline and delivered a positive message to the fan base. Bell, who had just 12 touches in the team's 29-15 loss to the Jaguars, has fully embraced the his new trek despite the growing pains. The game-changer went to head coach/offensive signal-caller Adam Gase this week and expressed his desire to help the team more. Bell, who is averaging just 3.2 yards a carry and is second on the offense with 32 receptions, has a shot to get on track against a Dolphins club that is 32nd in scoring (34 Pts/G) and 31st against the run (160.4 Yds/G).
"I just want to help my team win. That's why I came here in the first place," Bell said. "I want to be involved and help the team win games. I'm not upset at all if I'm not touching the ball and we're winning, but lately we haven't been winning and I feel like I haven't been able to help. That's why I had to express a little bit, but we're fine and moving forward."
Both Anderson and Bell have the potential to greatly aid second-year signal-caller Sam Darnold grow over the team's final nine games. In losses to the Pats and the Jaguars, Darnold had seven interceptions, eight turnovers and nine sacks. But the Dolphins are tied for 29th in sacks (9) and 32nd in takeaways (3) and they are taping things together in the back end.
"I've got to get the ball out faster. I also think that we could sure up protection in terms of where the free guy is coming from and all that kind of stuff," Darnold said. "I think I can be on top of that. But again, I've just got to get the ball out."
Both the Jets and the Dolphins are wounded in both the literal and figurative senses. The Jets defensive line will look different without the departed Williams, but the opportunity is there for rookie Quinnen Williams to see an uptick in reps and production. Also Gregg Williams' unit will attempt to force gunslinger Ryan Fitzpatrick into some turnovers while continuing to take a next-man up mentality at inside 'backer.
"There are things I'm seeing that are getting better, we just need consistency," said Gase, who had a 23-25 mark as Miami's head coach from 2016-18. "We've just got to keep coming to work every day, putting the work in on the field, translating it on Sunday and if we get another win. Then we've got to try to get another one and just keep building on those. As long as we get better every week, as long as we trend in the right direction, that's what I'm looking for. That's kind of the process that we've set in place."
Anderson knows what the process will be like Saturday night. He says he'll have a difficult time sleeping, heading home with clear intent.
"We're going to accomplish what we do. We can say whatever, but it's about our actions and what we make happen," he said. "If we stick together and we get tired of how we feel after those games and everyone collectively does and gets to the mission and sticks to the script, it's in our power. That's the thing about it."