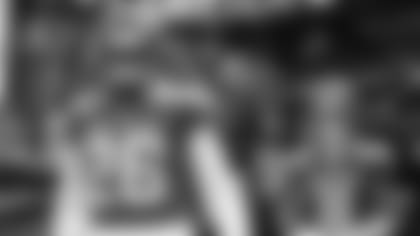 Sam Darnold started and finished the Jets' season-opening loss to the Bills before being diagnosed with mono two days later. Trevor Siemian started the Green & White's second game against the Browns, but he was lost for the season due to ligament damage in his ankle suffered during a 23-3 defeat. Luke Falk, who began the 2019 season on the practice squad and finished up Monday night during the Green & White's 23-3 loss, will be the club's third No. 1 in as many games Sunday when the 0-2 Jets collide with the 2-0 Patriots at Gillette Stadium.
"We haven't really gotten a lot of reps with Luke being that it's a new offense and everybody was starting to get on the same page as Sam," said wide receiver Jamison Crowder. "It's just one of those thing you face on this journey. It's still early in the season and it's adversity. It's how you handle things when things may not look how you want it to. It's just part of the game. You have to go out there and just play and try to make things happen."
The oddsmakers have made the Patriots, a club that owns a scoring margin of 76-3 after thumpings of the Steelers and the Dolphins, anywhere between a 22.5-point and 24-point favorite. The banged-up Jets haven't found a rhythm yet on offense, having totaled just 11 points in their two games. But Darnold, the second-year signal-caller targeting a Week 5 return against the Eagles, has seen Falk work his magic as an underdog before.
Two years ago, Darnold led the USC Trojans to Pullman, WA for a Top-25 matchup against Falk's Washington State Cougars. Both teams entered 4-0, but the Trojans were a 6-point favorite. Falk, a fifth-year senior at the time, outdueled Darnold while connecting on 34-of-51 passes for 340 yards and a pair of touchdowns. Darnold finished with a career-low 164 passing yards and the Cougars scored a 30-27 triumph over their Pac 12 rival.
"Luke's a great player," Darnold said this week. "He actually beat me in college, which I'm still pissed about, and he lets me know every now and then."
But beating perhaps the greatest quarterback of all time and one of the NFL's legendary dynasties in Falk's first NFL start would be another thing altogether. The Patriots are still as explosive as ever on offense, but their defense is stifling and Bill Belichick will make it challenging for Falk.
The 6'4", 215-pound Falk completed 80% of his passes in a mop-up role Monday and the former Titans' sixth-round pick gained experience in Adam Gase's system last season in Miami.
"He knows the offense, he trusts the guys around him," said Gase. "He just works to do his job, he does a good job of communicating everything. He's very quick on his feet, he's very smart. He got to some checks in this last game where I don't know if any of us really expected that to happen and him to be that aggressive when he got in the game."
The lack of quarterback continuity hasn't helped the Jets early, but nobody at One Jets Drive is looking for excuses. The blocking needs to improve and it would go a long way if the Green & White could establish a rhythm in the first quarter. Even though scoring has been elusive, there have been positive signs including Crowder's 18 catches in two games and RB Le'Veon Bell has been the team's best player to date, rushing 38 times for 128 yards and adding 16 receptions for 93 yards. Falk was able to get Robby Anderson going late against Cleveland as the pair hooked up four times for 81 yards. Even minus their top two quarterbacks, TE Chris Herndon (suspension) and WR Quincy Enunwa (neck/IR) and possibly Demaryius Thomas (hamstring/knee), the Jets remain confident they can move the football against one of the league's top units.
"We kind of stalled in those two games, but we made plays. Now, I think it's just about putting it all together for four quarters, really staying consistent throughout the ballgame," said Crowder. "I've been able to make some plays, Le'Veon is being Le'Veon, and Robby was starting to get going last game. Now, we just have to put it all together and go out there and play."
The Jets will likely miss their quarterback on defense for a second consecutive outing as Mike linebacker C.J. Mosley hasn't practiced due to a groin injury. While rookie defensive tackle Quinnen Williams, who suffered an ankle injury against the Bills, could push for time Sunday, outside linebacker Jordan Jenkins is week-to-week with a calf ailment. The secondary shuffle may remain in place at cornerback because Nate Hariston was solid in his first start in place of Trumaine Johnson. Gregg Williams' unit will contend with Tom Brady, who is cruising once again with a 68.8 completion percentage and five touchdowns.
"This team has dominated the entire NFL," Gase said of the defending Super Bowl champions who have captured the past 10 AFC East titles. "They've lost four home games in three years, including the playoffs. It's like 35 games or something like that. I think anybody when they go in there, everybody gives their best shot against these guys because they know it means something. That's what's impressive about these guys is they've sustained it."
The calm Falk, a Logan, UT native who grew up idolizing Brady, was selected by the Titans in the same spot (Rd. 6, No. 199) as Tom Terrific 18 years earlier. He'll make his first professional start in Week 3 against Brady in one of the most improbable QB matchups in series history.
"You've got to realize it's just football," Falk told reporters this week. "I've been playing this sport for a long time, obviously not at this level. But you've just got to keep simple things simple, go out and execute the game plan and just put the ball on play. You've got to focus on the small things and not get too wrapped up in the whole big picture I guess."