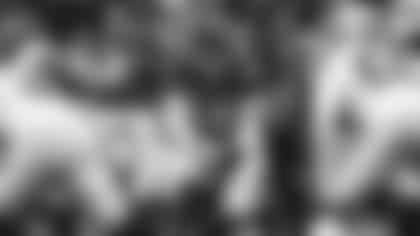 At the beginning of November, the Jets reached rock-bottom in Miami with a 26-18 loss to the winless Dolphins. The Jets were 1-7 at the season's midway point, searching for answers and hoping to salvage the 2019 campaign. But as the calendar turns to December on Sunday, in Cincinnati the Jets face another winless foe. The Green & White have flipped the script with three consecutive wins. New York has an opportunity to complete a perfect third quarter with a fourth-straight win.
"We've had a good quarter so far," said Coach Adam Gase. "We have a chance to finish it off. Really our goal at the end of the week is to be 1-0 and it would put us 4-0 for the quarter. That's tough in the NFL. Anytime you go 4-0 in a quarter, that's a great accomplishment."
While the Jets will play the role of favorite on the road against the Bengals (0-11) and next week at home in a rematch against the Dolphins (2-9), the players aren't looking past Week 13.
"We've won three in a row, but still at the end of the day we're still 4-7," said DL Henry Anderson. "We know we kind of dug ourselves in a hole with the way we played early in the year. As good as we've played at points the last few weeks, we know where we're at and we know we've just got to go out each week and do what we can to get a win."
The Green & White scored 34 points in each of their triumphs, over the Giants, the Redskins and the Raiders. You typically don't reach that number without a hot quarterback and Sam Darnold has connected on 65% of his passes with 7 TD passes and 1 INT, while averaging 279 air yards during the run.
"I think as you continue to play and with experience, you continue to learn the offense," Darnold said. "You continue to feel really good about the plays that we are running and we start to get in a really good rhythm. I think we have felt that the last few weeks and we are only going to continue to get better with that and that helps everything. It helps communication, it just allows to go out there and play fast."
Over the past four games, the offense has posted top-10 rankings in a number of offensive categories including points per game (No. 4, 30 PPG), sacks allowed percentage (No. 7, 5.8%) and red zone TD percentage (No. 9, 64.3%). The rapidly progressing Darnold has been given time to read the defense and get the ball out. Even when protection has broken down, the 6-3, 225-pounder has picked up yards with his feet or kept his eyes down the field and converted chunk plays.
"It's been fun to call plays," Gase said. "You're playing Battleship out there, you feel like you can call whatever and it's going to work. I feel like the more the guys are in this system, the more they rep the plays and the more they're working together — they're getting to the point where they're comfortable. Their communication has been outstanding, they have a better feel of where they're going to be and what the timing of every play will be."
The timing could be right for a breakout game from Le'Veon Bell on the ground. Bell, who has averaged 3.2 yards a carry and has 3 rush scores, has 51 receptions; he needs 75 yards to reach 1,000 yards from scrimmage in 2019. The former Steeler will see a familiar AFC North foe in the Bengals who have fallen on hard times, ranking last in the NFL in total defense (417.3 YPG) and rush defense (166.4 YPG) and 31st in sacks (16).
"We have to handle Geno Atkins, that's where it all starts and stops," Gase said of the 6-1, 300-pound defensive tackle who is seven-time Pro Bowler. "When he gets going, it's a scary thing. He can destroy the run game, he can cause problems in pass protection. He creates turnovers. We have to do a good job with our front. They're a big front, the linebackers can run side-to-side and you've got a lot of first-round draft picks in the secondary."
The Jets have one first-round pick in their secondary and he has become an absolute game wrecker in his third professional campaign. But the rapidly improving Jets defense is much more than star Jamal Adams, who has a team-leading 6.5 sacks, 14 QB hits, 2 FF and 2 touchdowns and is tied for the unit high with 7 pass defenses. Defensive coordinator Gregg Williams has used 12 former undrafted free agents and that dozen — including defensive tackle Steve McLendon, nickel corner Brian Poole and ILB Neville Hewitt — leads all other team's UDFAs this season in tackles (251), tackles for loss (32) and quarterback hits (24) according to Radar360.
"These guys are doing a great job of playing team defense," Gase said. "Jamal will always stand out because he is an elite player – I don't think there's any question about that. He can do so much. But as far as this entire group, these guys play extremely well as a unit, they execute what Gregg wants them to do. I know there are always going to be a few mistakes here and there, but for the most part these guys have been on it."
Last week, Poole had his first career pick-six and the Jets flummoxed Oakland's veteran QB Derek Carr with their pre-snap looks. After holding Carr to 127 yards before his early departure in the Jets' blowout win, the Green & White will match up with nine-year veteran Andy Dalton, a k a the Red Rifle.
"We just tried to hold our disguise," cornerback Arthur Maulet said. "We looked at that [play] clock. Once it hit 2, then we can get to our coverage or whatever we're in. Marcus Maye did a great job of quarterbacking us, telling us when to move and when to get down to our coverage and when to disguise or when to show. We're going to continue doing that and I think that's going to help us very well."
The Jets are a confident group who will carry a swagger to the 'Nati. After a disastrous start to November, they found themselves and haven't looked back. Just like the Dolphins on Nov. 3, the Bengals will enter this Dec. 1 contest having played a couple of close games and with a wily veteran passer who can be dangerous. But the Jets don't see a winless club or a trap — they see another opponent standing in their way.
"It's been a continuous trend," Gase said. "You've seen that for a while now that guys are fired up on Sunday, they're ready to go no matter who we're playing. It's nameless, faceless right now."