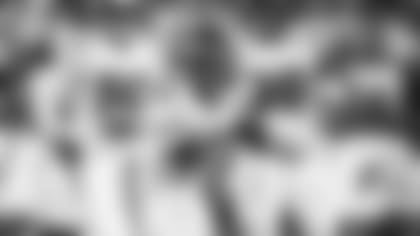 With 10 games remaining in the 2019 season, the 1-5 Jets have no choice but to hit the reset button. After suffering a shutout loss to the Patriots in front of a nationally-televised audience, the Green & White have prepared for a double-chinstrap contest Sunday in Jacksonville against the 3-4 Jaguars.
"It's going to be a hot game," said veteran OLB Jordan Jenkins. "In my opinion, they know we're a cold-weather team and they're going to try and hurry the speed of the game up, try to get us out of our element and tire us down a bit, and try to gash us with the run."
With gameday temperatures expected to be in the mid-80s and high humidity added to the mix, the Jaguars are likely to lean on Leonard Fournette, who averaged 25 carries and 134 rush yards the past four games. Their offensive line has been uneven in pass protection and this is a Jacksonville squad intent on running the football.
"They're aggressive guys. They're old-school football," Jenkins said. "You know what you're going to get when you line up and run what they're going to run. They're not going to switch it up. Even if you know, you know. They can overpower you and just get after it. They have a physical group of tight ends as well, and they're just trying to run it down your throat."
On the other side of the coin, Jets RB Le'Veon Bell is coming off his best rush outing of the season. He was the Jets' lone offensive bright light in prime time, churning out season highs with 70 rush yards and 4.7 Yds/Att. The Jags are a gap defense that has been susceptible to the big play and they are banged-up at the linebacker position around Myles Jack.
"They have good players on each and every level," Bell said. "Calais Campbell, I think he's at least a top-three most underrated player in the NFL. He's a big, quick explosive guy. It's hard to run the ball his way. He gets in a lot of throwing lanes, he's a big, tall guy (who is) real disruptive. You've got Myles Jack who's been playing at a high level this year. (A.J.) Bouye is a great corner, he can follow any receiver and guard him really well. I think as a collective group, those guys play well. I think it's going to be a great challenge for us."
Much of the focus heading into this intra-conference battle was on the signal-callers. Minshew Mania took over Jacksonville early this season, but Gardner Minshew, the sixth-round pick out of Washington State, completed just 48% of his passes his past two outings against the Saints and the Bengals in Weeks 6 and 7. Jets QB Sam Darnold has been way up and way down since his return from a three-game absence due to mono, carving up the Cowboys for 338 yards and suffering through his most difficult outing as a pro in a five-turnover performance against the Pats.
"Just bouncing back this week, I feel like I'm in a really good place right now," said Darnold, who had a toenail removed following Monday's game but is not expected to be limited. "The offense is executing really well in practice, which is a good thing. So from that aspect, I feel like we have bounced back well. It's just about going out there Sunday and executing."
But the quarterbacks could play second fiddle to the star running backs in this matchup. The Jets defense has to contain a powerful runner in Fournette, a 24-year-old who is off to the best start of his career.
"Fournette is a hell of an athlete," Jenkins said of the 6'0", 228-pounder who ranks second in the NFL in rushing with 715 yards. "He can go downhill. But if a play is going downhill and it's not there — he's going to look to spin and he has a killer spin move. You may think you have him dead to rights and then he'll spin out of it, so he's a guy that can do it all."
This will be a formidable test for a Jets defense thin at inside linebacker. C.J. Mosley (groin) was ruled out Friday and Gregg Williams' unit could be also be minus Neville Hewitt (stinger/shoulder) and Albert McClellan (concussion protocol). The Green & White just held the Patriots to just 2.2 yards per carry and they rank second in the NFL while allowing just 3.3 yards per rush. They have a deep defensive line rotation, the 'backers have played the run well and safety Jamal Adams, a former teammate of Fournette's at LSU, attacks the ground game as well as any defensive back in football.
"We try to value ourselves on stopping the run first and being great run defenders. It's the best of both worlds for our team and their team," Jenkins said. "It's going to be a true test of battle in one of the most recent higher-ranked run offenses vs. one of the higher-ranked run defenses. It's going to be a good game."
If the Jets can contain Fournette, they can get after a rookie quarterback who is directing the league's 27th-ranked third-down offense (30.8%). The 6'1", 225-pound Minshew has thrown for 10 touchdowns and just two interceptions, but he's put the ball on the turf eight times and the Jags have lost four of those fumbles.
"He's trying to do anything he can to get a play going. When he scrambles, he's not just going to run," Jenkins said. "He's doing both. Some plays he's going to scramble out and take off running, and some plays he's going to scramble and boom — dish it out. He's looking to extend plays and just make every play he can make."
The Jets are headed to Florida for a meeting with a physical Jaguars squad determined not to let their season drift further south.
"All we can do is put our head down and keep working. Obviously we're 1-5 and we get it, but there have been plenty of teams that come out of the drought and made the postseason," Adams said. "But we're not focused on that right now — we're focusing on Jacksonville and we're going to take it one game at a time. Everyone in the locker room is together, we're all positive and we're all looking forward to the next challenge. That's all we can do."