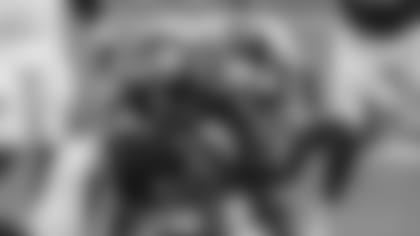 The Jets matchup with the Giants will take on added significance for Jamal Adams. This will be the first regular-season contest for Adams against the team his dad, George Adams, appeared in 58 contests for from 1985-89.
"He bleeds the Green and White," Adams said of the former Giants RB. "Whatever team I'm on, it doesn't matter. Obviously it's going to be a little different and kind of weird to see, but he's looking forward to it ⁠— I can tell you that."
Both son and father were first-round draft picks. Former Jets/Giants coach Bill Parcells selected Kentucky RB George Adams with Big Blue's 19th overall selection in the 1985 NFL Draft. He ended up playing four seasons with the Giants before finishing his career with the Patriots in 1990-91. The 24-year-old Jamal Adams, who was born on Oct. 17, 1995 , was taken by the Jets with the sixth overall pick in the 2017 Draft.
Despite growing up in Dallas, TX and attending Hebron HS, Adams was a Giants fan during his childhood. He's played them three times in the preseason, but Sunday's contest marks his first crack at the G-Men when it counts.
"Hell yeah, it means something to me. Every game, but especially this one," Adams said of the cross-town rivalry that pits the 1-7 Jets and the 2-7 Giants. "We're looking forward to this one, it's going to be a fun atmosphere. I wish Evan Engram is playing because that's definitely who I wanted to match up with, and that's one of my good friends… I hope he'll get back healthy and we'll soon face off, but this is going to be a fun one."
The 6'1", 213-pound Adams, who was both Jets Team MVP last season and Defensive MVP in the Pro Bowl, leads the Jets in tackles (52) and solo stops (46) and ranks tied for second in tackles for loss (7). Adams has also registered five pass defenses and recorded his first-ever pick-six against the Patriots in Week 3. He is a complete player who is an integral part of a rush defense that has limited ball carriers to a league-low 3.13 yards per carry. Since 2009, only four teams have held opponents to under 3.2 yards per carry through the season's first nine weeks.
While the Giants will be minus their top receiving target in Engram (44-467-3TD), they won't be without their top playmaker in RB Saquon Barkley. The second-year back, who became just the third rookie back in NFL history to eclipse 2,000 yards from scrimmage last season, is averaging 4.6 yards a carry and has also added 228 receiving yards. Barkley, born in the Bronx, told reporters this week that his father, Alibay, a die-hard Jets fan, plans to wear a throwback Joe Namath jersey that Saquon gave him before he entered the NFL.
"He's a dynamic runner. He's a dynamic player, I should say," Adams said of Barkley. "He can do everything, he's a great player."
The 24-year-old Adams is one of the NFL's top safeties and the Jets received inquiries about him before last week's NFL trade deadline. Adams was miffed that there had been conversations, but he cleared the air with team management this week.
"It went well. I told them that I don't hate those guys, they said they don't hate me. I have nothing but love and respect for them," he said. "We've moved on, we've apologized to each other. We wish we would have went about it a little different way on both ends, but it is what it is. You live and you learn, it's part of life. It's not going to hurt our relationship or anything or how I feel about this organization or whatever it is."
General manager Joe Douglas, whose sole deadline deal was acquiring a pair of draft picks from the Giants in exchange for DL Leonard Williams, made it clear what he felt about his instinctive safety last week.
"He wears the 'C' patch for a reason. The guy is an absolute warrior," Douglas said of Adams. "He's the heartbeat of this team and this defense. He's got the exact mentality and I've told him from the beginning, from my first day here. He's a mission statement guy, he's a guy that when you talk about the traits you're looking for, that's Jamal."
Adams and fellow safety Marcus Maye continue to be constants in a secondary that is shuffling its cornerbacks around. The Jets, a club hit by a number of critical injuries during their eight-game start, placed Trumaine Johnson (ankles) on injured reserve earlier this week and Darryl Roberts (calf) won't suit up Sunday. Rookie Bless Austin was activated to the roster and Maurice Canady was claimed off waivers. Nickel corner Brian Poole could be flanked by Nate Hariston and Arthur Maulet Sunday. They'll contend with talented rookie signal-caller Daniel Jones, who has shown flashes but is also is tied for the NFL high with 16 giveaways.
"It's tough, but it's part of the business," Adams said of the rash of injuries. "It's what we sign up for. It's not going to change, it's next man up. That's our philosophy. Everyone is coached the same in the room and that next guy has to step up, and we're counting on him."
The Jets have always been able to count on Adams, an electric performer whose passion for the game can't be eclipsed. He'll make his 41st consecutive start for the Green & White Sunday, stating that he doesn't have any friends on the field but acknowledging he and Barkley will swap jerseys following the contests. In a game littered with storylines, Adams has talked of being here in New York for reason and the potential of seeing things through.
"I want to bring success to this organization, I want to bring a Super Bowl to this organization," he said. "That's why I feel like I was placed in New York, to kind of pick up where my Dad left off. His career was cut short, and I just feel like that's my calling. I don't know those things, but do I want to be here? Yes."