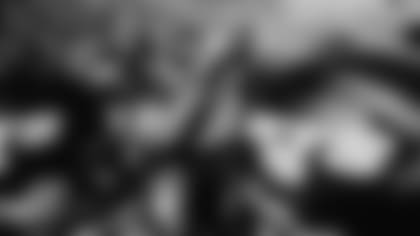 The Jets have yet to taste victory in 2019 and an early bye week, although very beneficial in many respects, only extended frustrations for a few more days. After dropping their first three regular-season games, the Green & White will look to avoid a winless first quarter with a win over the 2-2 Eagles Sunday in Philadelphia.
"There's an anger there, you want to win," said first-year Jets head coach Adam Gase. "You want to get the things fixed as fast as possible, so you can apply them to next week. You want to avoid injuries to where you've got the same group out there and you can keep building on what you're trying to do. I think we're to the point right now ⁠— after a bye ⁠— it's kind of like a new start for us."
But a new start comes with familiar issues. No NFL club has been decimated by early injuries at key positions more than New York's AFC representative. Sam Darnold, who took first-team reps Wednesday and Thursday after a two-game absence due to mono, is out after not receiving full medical clearance. The team's defensive signal-caller, Pro Bowl linebacker C.J. Mosley, is also likely to miss a third consecutive contest with a nagging groin injury.
At the mercy of an ultrasound and blood tests, the Jets and Darnold received the bad news Thursday night and Falk transitioned from scout-team quarterback to the man on Friday. The 24-year-old Washington State product, who started the season on the practice squad, will make his second straight start.
"He did everything he was asked to do, he did everything the doctors told him to do. It just didn't work out for him," Gase said of Darnold. "I know the guys, they always do a good job, they rally quick. The good thing is Luke was all in, was wired in, and knew that this could happen."
Falk has been accurate in his two appearances to date, connecting on 68.1% of his passes in a Week 2 relief role against the Browns and a Week 3 start against the Patriots. But he's been sacked seven times and the Jets totaled just three offensive points over their past two games.
"You just have to lock in mentally," Falk said. "You've got to get the physical reps after practice with the guys and lock in mentally when Sam is getting his reps with the ones. So, you've got to be ready to roll."
The Jets will roll on minus Darnold, but they are getting help elsewhere. Rookie defensive tackle Quinnen Williams, who was on the shelf the previous two contests with an ankle sprain, is expected to be full-go Sunday and veteran wideout Demaryius Thomas (hamstring/knee), could give the offense a boost on the outside. And looking down the horizon, both TE Chris Herndon and OLB Brandon Copeland will be eligible to return from suspension Monday and play in Week 6 vs. the Dallas Cowboys.
"There are 13 games left," said veteran safety/special teams stalwart Rontez Miles, one of the club's six captains. "We have ball to play and I think everyone knows that. Nobody is in a panic and we're getting some good guys back."
Darnold, who now will target the Cowboys for a return, has reiterated that the Jets are going to go on a run. The regular season is a 16-game marathon and the current AFC standings reveal only three teams with records north of .500 and half the conference is sitting at 2-2.
"We're only three games in, so there's no point in hanging our heads," said third-year veteran safety Marcus Maye. "We just have to keep fighting and keep battling and correct all of the mistakes that we see from the first three weeks and just adjust and go from there."
While the Jets defense and special teams combined for 22 points and seven takeaways in September, the offense needs to find its footing fast. Not making excuses despite starting three quarterbacks in as many games, the coaching staff is searching for answers and Gase has indicated there could be lineup changes along the offensive line. They'll face a formidable Eagles front in Week 4, but the Eagles rank 27th in points allowed (26.2 Pts/G) and Philly's banged-up secondary is yielding a league-high 323.8 yards an outing.
"We need to play better than what we've played. We've been terrible and it's all eleven (players)," said Gase of his offensive unit. "We've just got to figure out a way to move the football."
The Jets defense will attempt to slow down an Eagles offense ranked 7th in scoring (27.5 Pts/G) and that also paces the NFL with a mind-boggling 56.1% conversion rate on third down. Behind one of the league's top offensive lines, Carson Wentz appears to have returned to his 2017 MVP-level form and he has dangerous weapons around him including TE Zach Ertz and long target Alshon Jeffrey. After yielding touchdowns on three consecutive positions against the Patriots their last time out, Gregg Williams' unit will need a consistent effort from wire-to-wire.
"We've made plays here and there, and in spurts we've played well, but there's also been moments where we let things slip away," Maye said. "We're doing all right, obviously we know we can get better. We're not where we know we can be, so we over-emphasized on communication and getting in the right spots and everybody doing their job."
The Jets hope to put an end to two streaks as their season hits the quarter mark at Lincoln Financial Field. They'd like to to secure their first victory of the season and in the process pick up their first-ever win against the Eagles.