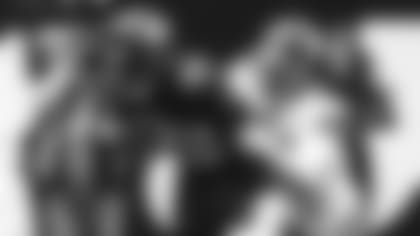 After wearing the burgundy & gold his first pro four seasons, Jets WR Jamison Crowder will make a return to Washington Sunday. The understated Crowder, who has quickly grown into being Sam Darnold's favorite target, has played down Sunday's matchup between the 2-7 Jets and the 1-8 Redskins.
"It's cool. I think it will be exciting obviously to go back to FedEx, a place I'm familiar with," said Crowder, who inked a three-year deal with the Jets in March. "It's going to be fun, I look forward to playing against those guys."
Crowder, a Duke product who was a fourth-round pick of Washington in the 2015 NFL Draft, totaled 221 receptions and 2,628 receiving yards for the District's team. He averaged 11.9 yards a catch and amassed 15 touchdowns (including one punt return score) from 2015-18.
"My rookie year, we went to the playoffs. We had a home playoff game and the atmosphere was cool. I had some great games there. I remember two years ago, the Thanksgiving game against the Giants, I had my career high, like 141 yards and got the Turkey and everything," he said of his seven-catch performance in a 20-10 victory over the Giants. "That was a great memory."
Crowder has wasted no time making good memories with his new team. In last week's win over the Giants, he had five catches for 81 yards including a 23-yard scoring reception in the first quarter. And when the Jets needed a chunk play late, Darnold ended the third quarter by hooking up with Crowder for a 25-yard gain.
"Jamison is awesome, just his feel out on the field is great," Darnold said. "We are looking forward to him having a big part in a really big game this week coming up. Jamison is obviously a really good player and he's got a great feel."
"He's always open at the right time. Sam seems to find him," added head coach Adam Gase. "That one catch he had in the second half was a big one where he got us a big explosive play, he kind of set things up for us. He just always, he's really reliable. He makes the right play at the right time."
The 5'9", 177-pound Crowder continues to beat man coverage and find the soft spot against zone schemes. He is dangerous after the catch, possessing the ability to make people miss in space.
"He is reading defenses and getting to the right spot and is able to get open. But also once he catches the ball, he's good with the run after the catch," said veteran wideout Demaryius Thomas of Crowder.
Despite Darnold missing three games, Crowder is still on pace for 85 receptions and 864 receiving yards. The 22-yard-old Darnold did a good job of not forcing the action last week, playing turnover-free football and hanging in there in the pocket to deliver strikes down the field.
"He's getting better. Some of the throws he made last week, going back and watching film, those were really impressive," Crowder said. "He was under duress and guys hanging on him and he was still able to step up in the pocket and deliver a really good football. You can just tell that he's continuing to get better and I'm just looking forward to continue to get better with him."
The Jets will head to Washington in search of consecutive wins for the first time in more than a calendar year. While the 'Skins have just one win on their resume, they have surrendered 17 points a game over their past four contests and they rank 14th overall against the pass (230.1 Yds/G).
"Defensively, I think they're really good: the front seven, the guys in the back end," Crowder said. "I'm familiar with Landon Collins. He played with the Giants, he's a guy who is going to come down in the box and make a lot of contact. Going against some of those guys in practice on a day-to-day basis, they have a lot of talent over there. We definitely have to be on our game and be sound and be ready to execute as well as we can because I know it's going to be a tough game."
One of the 'Skins primary challenges will be trying to contain Crowder. Those duties could fall to third-year pro Fabian Moreau or James Madison product Jimmy Moreland.
"It's been a little bit of Fabian and a little bit of Moreland, the rookie," said Crowder of the 5'10", 179-pounder who was mostly an outside corner in college. "I haven't played against him, but you can see that he's talented and quick. A smaller guy who is kind of quick and shifty like myself. It's going to be a challenge."
With a touchdown this week, Crowder would match a career best with scores in three consecutive games. After 30 games without a touchdown on their opening possession, the Jets have reached the end zone to open the game in three straight. Last week, they made further progress as Crowder's scoring grab late in first gave the Jets TDs on their first two possessions.
"I think that's a step in the right direction," he said. "I think now we have to get over the hump and try to put consistent drives together throughout the course of the game."
During his first three seasons in Washington, Crowder averaged 64 catches, 747 receiving yards and four scores. But he became a free agent last spring after he was limited to nine games in 2018, finishing with just 29 receptions for 388 yards. He is forever grateful to the team that gave him his NFL start as he flourishes with the team who bet on his future.
"Hopefully they greet me with love," he said of the Washington fans. "I appreciated my time there. I thank the Redskins organization for giving me a chance. They gave my opportunity to play in the NFL and display my talents."