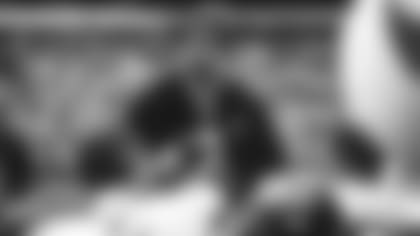 The Jets' offense has been inconsistent for most of the season, with one of the biggest areas of concern being the offensive line. Through eight weeks, the line up front has allowed 34 sacks and currently ranks 32nd in the league in sacks per pass attempt.
"I don't know if you could say it's just one reason. For whatever reason it is, we're not executing or producing at the level that we expect from ourselves," said Jets' offensive line coach Frank Pollack. "We have to continue to grind every day and focus on the little details and keep getting better."
Like other areas of the team, the O-line has had its fair share of ups and downs in the injury department, resulting in numerous lineup changes. Left tackle Kelvin Beachum has missed two games since suffering an ankle injury against the Cowboys, and most recently, center Ryan Kalil was unable to finish against the Jaguars with knee and elbow injuries. In the Green and White's last matchup in Jacksonville, only two of the five starters from the first game of the season finished the contest (G Brian Winters, T Brandon Shell), making it difficult to find consistency.
"Mistakes are usually a grab bag of things, that's typical anywhere in the league. There's going to be some mental and some physical but that's pretty typical on mistakes," said Pollack. "We have pro football players. Whether you want to label that quality or non-quality, they're all professional athletes and football players. No matter what the outside world might grade you as, we're expected to produce — period. So we have to produce and get better and grind and that's what we will continue to do. We're working hard to improve in those areas."
The challenge of remaining healthy along the line hasn't helped QB Sam Darnold's protection. Since the 22-year-old's return from his three-game absence, Darnold has been sacked 11 times in just three contests.
"We're going to grind every day and work to get better on the details. The only thing we can worry about is the process and let the chips fall where they may," said Pollack. "But we're going to grind and work hard every day and continue to improve and focus on the things we can control. That's our approach, mentally and physically on a daily basis."
As the Jets approach the midseason mark Sunday in Miami, Pollack will continue to find creative ways to help push his offensive line in the right direction.
"This is the ultimate team game. You need to have all eleven players on the field perform at a high level," Pollack said. "I coach the offensive line so my focus is on the offensive line, and we need to get better and improve, absolutely."