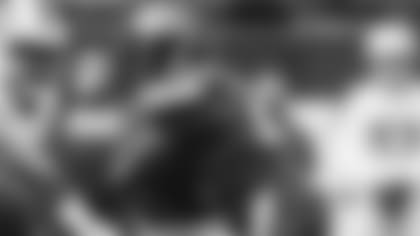 Few NFL players like to be tagged with the label "mentor." It usually means one thing: You're nearing the end of your career and we only want to pick your brain.
For Jets running back and future Hall of Famer Frank Gore, 37, that's just fine. He may have been drafted, in 2005, when many of his teammates were still toddlers, but he seldom sees it that way. Instead Gore has embraced and celebrated his role as a mentor, bulldozing Father Time the same way he has bulldozed untold numbers of defenders.
"That's why I'm playing the game still," Gore told the Inside the Jets podcast. "My goal is to show the young guys what it takes to be successful in the NFL. If they can see me working hard every day, they have no other choice than to follow. I'm going to keep working and keep fighting."
Before Sunday's game at the Kansas City Chiefs, Gore leads the Jets with 310 rushing yards; he has also picked up 17 first downs in his first season with the Green & White. In his storied career, which started in San Francisco with a detour to Buffalo before he signed with the Jets as a free agent, Gore is third on the career rushing list (behind Emmitt Smith and Walter Payton) and is also third among running backs in games played in the NFL (behind Lorenzo Neal and Tony Richardson; both of whom also played for the Jets).
In the Week 7 loss to the Bills, Gore led the Jets' rushing attack with 11 carries for 60 yards, a 5.5 yard per carry average. After setting the tone early as the Jets put together a strong first half, Gore took on a secondary role as rookie La'Mical Perine took the lion's share of the carries. Perine scored his first NFL touchdown on a nifty run.
But in "The World According to Gore," last week might as well be last year. What matters is what young players like Perine do next. Next practice. Next game. Next practice. Next game. On and on.
"I'm proud of him," Gore said of Perine. "He is taking steps in the right direction. The way he is as a young man, he wants to get better. He listens to anything I tell him, and you see that he's growing as a player. I'm happy for all our young guys. [Denzel] Mims, it was his first game and he was out there making plays. I told him after the game, he took a step and the more you take steps the better our team is going to be.
"I believe we can do some great things. All year we've never had our full roster lineup on Sundays. Next week, we'll have [Jamison] Crowder back. These young guys keep growing, mentoring from me and other older guys. What I love about this team is that the young guys come to work every day and bust their behinds. When you watch us practice you can't tell we're an 0-7 team. With these young men this organization is going to be in good hands."
Gore, perhaps, reserved some of his most effusive praise for rookie left tackle Mekhi Becton, who returned to the lineup last week after missing time with a shoulder injury. In the game, Becton flashed some impressive and dominating moves that truly impressed Gore.
"Man this kid is different," Gore said. "This offseason will be big for him, it's a time to get your body in better shape. You dominate, then you want to take it to the next step. You can't get comfortable. He's got a chance to be special as long as you go about it the right way. That's the offseason. To be a rookie, it's hard in the trenches."
Anyone who has been around Gore or listened to him opine on his incredible longevity playing a position that is hard on the body knows he's takes particular pride, as a third round pick in 2005, No. 65 over all, in outlasting, outplaying and outperforming a host of guys taken before him. That list includes a handful of players who fall into the "Where Are They Now" category of former NFL running backs: Eric Shelton, JJ Arrington, Cadillac Williams, Cedric Benson and Ronnie Brown.
"It's why I'm still playing, if not for them I wouldn't be playing," Gore said. "You hear that at a certain age you can't do this, you can't do that. I don't listen to it. On Wednesdays when we take the field for practice I show my teammates what it takes. To keep going and to keep fighting."
That's a look back at what has motivated Gore year in and year out in the NFL. But Gore wants to make sure that youth is not wasted on the young, and he sees a bright future for the Jets and their 2020 draft class.
"We can't play this game forever," he said. "When I'm done I'll be home in my crib watching all these young guys succeed and I'll be happy. Like I told him [Perine, a fourth-round draft pick] once you get drafted, now you got to compete with all the guys who went in front of you. It's how I went, competing with all the running backs in my class. My goal was to be the last man standing. That's what I tell Perine."
He added: "This draft class, I can see the GM [Joe Douglas] is going in the right direction. These are tough guys. You watch the film, No. 11 [Mims] was out there blocking and you know receivers don't like that. We just have to keep grinding and getting better every day."