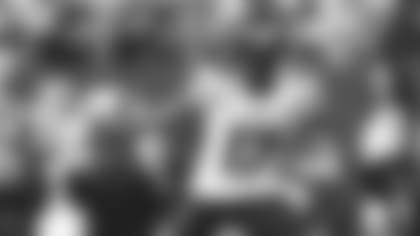 At the start of 2023, the Jets find themselves in the unsatisfying position of playing out the string with the final regular-season game at Miami on Sunday, then returning to 1 Jets Drive to clean out their lockers.
Speaking about being a playoff observer, the Jets' former linebacker Bart Scott said that there's a "daunting long road ahead, there's a lot to digest."
"Unfortunately, the [playoff] streak continues and now it's 12 years," Scott told team reporter Eric Allen on the Week 18 edition of "The Official Jets Podcast." "It's unfortunate, but the future looks bright. But the future was also now, there was an opportunity to get to the postseason, to get that type of experience with a young team and a roster that's ahead of schedule. It feels bittersweet.
"We see the potential. It's just one of those tough things that they're going to have to learn from and grow from. And understand the consequences of not making the playoffs, which is turnover. Some familiar faces that won't be here next year. It's a daunting, long road ahead, a lot to digest.
"But the future starts now."
Sitting at 7-4 as November melted into December, the Jets' head to South Florida on a five-game losing streak, the same as the Dolphins. Miami, however, still has a chance to advance to the postseason and the Green & White has a chance to thwart a division rival, win the season series and finish with a 3-3 record in the AFC East after going 0 of 6 last season.
"It's about understanding how to finish when everyone else is fighting for their playoff lives," Scott said. "Being able to step up. They weren't able to answer the bell. It's OK to start fast, but you have to finish. That's usually the sign of a young, inexperienced team. They get out fast, but as pressure builds, they can't answer the bell.
"A lot of it is inconsistency at quarterback, a defense that didn't have the same pop. One strength of the team is they did rotate 10 pass rushers and were able to make sure guys stayed fresh. But they wore down and became bad tacklers."
This season, the Jets have not been alone as 64 different starting quarterbacks have seen action for the NFL's 32 teams. According to CBSSports.com, only the 2007 season featured as many different starters as this season -- with one regular-season game remaining, 21 teams have employed multiple starters, while only 11 had a single starter. The Jets have had three different starters (Joe Flacco, Zach Wilson and Mike White), while a fourth (Chris Streveler) has also played.
Head coach Robert Saleh said that he will stick with White in Miami, even though he had a rough outing last Sunday at Seattle after missing two games with bruised ribs.
"How many balls were inaccurate?" Scott said. "It's not only about having touch and rhythm, he didn't have the ability physically to put torque on the ball. He won't make the excuse that it was his ribs or that he wasn't ready. He was cleared by the doctors. Rarely do players get multiple opportunities to show what they can do."
Here are some of Scott's other observations:
• On Alijah Vera-Tucker, who was injured in the Week 7 game at Denver: "AVT created so much balance, he's so valuable because of his ability to be whatever he's needed to be. He's vital to the team. You lost an athletic guy who could pull and get to the linebacker. Hopefully, [Mekhi] Becton can stay healthy. The strength [of the offensive line] was depth and they lost it quickly and couldn't overcome it. If Becton can stay healthy and AVT can stay healthy, you can have Pro Bowl-caliber linemen with Laken [Tomlinson], with AVT and Becton as your bellcows."
• On rookie, Pro Bowl CB Sauce Gardner: "Definitely top five depending who you favor. For me, the best corner all year has been [Green Bay's] Jaire Alexander, he came in from last year as the No. 1 guy. There's some talented guys out there capable of being on islands."
• On the Jets being ahead of schedule: "You don't know if you're going to be healthy next year and teams in the division are going get better. You could be a better team, but they could pass you and then you find yourself on a perpetual treadmill. That's why you have to take advantage because you never know if you're going to get another opportunity. Another chance."
• On this week's game at Miami: "You're young and just excited to be playing football. The older guys want to go out with a win, and frankly, it could be their last opportunity to play on this team. Decisions are going to be made, you're going to have to upgrade positions and look at cap numbers. For the young guys, it's going to be the first time for them to see the consequences of falling short of your goals ... you could lose your job. And there are going to be guys with high cap-number contracts, with some tough decisions to be made."
• On being a spoiler by beating Miami and denying them a possible playoff berth: "I'd be damned if someone from my division is going to have an extra game and get that experience."
• And finally, on the grind of a 17-game season: "Everybody now is put together with duct tape and glue."