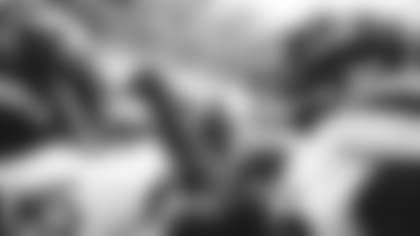 For the New York Jets, the 2022 NFL offseason began on Monday, January 10.
"I don't think we're far away," veteran RT Morgan Moses told reporters as the players prepared to begin their offseasons. "We have to keep pushing buttons. We'll get there."
To a man, the sense of optimism, belief in the future, belief in their teammates, belief in the coaches and a commitment to the organization came through loud and clear. There is a true sense that general manager Joe Douglas and head coach Robert Saleh are building a foundation that will only get stronger between now and next September.
"There's an opportunity here to do something special," said CB Bryce Hall, who completed his second season in green & white on Sunday at Buffalo. "While the rest of the world is looking in and counting us out, anybody who has achieved something great didn't look at what things look like in the moment. They saw a bigger picture of what things can become. We have an opportunity to be part of something special.
"Change the organization, change the trajectory that has been down for a while. That is the beauty in this thing. It's what you live for. It's easy to go somewhere where everything is going well and there's been a lot of success. It's tougher to go somewhere to create something special. If you have that vision and that hunger to do something special, man this is a great opportunity."
It's clear that the future can belong to a team whose rookies played more snaps than the vast majority of the first-year players of other NFL teams. It's clear that the Jets have four picks among the top 38 selections in April's NFL draft. And it's clear that Douglas and his personnel staff have envious flexibility when it comes time to pursue free agents. What is also clear is that Saleh's intent to transform the club's culture remains a work in progress after a 4-13 season (the first 17-game schedule in league history) and the club's 11th straight season out of the playoffs.
For the Jets, however, the 2021 season is not only in the rear-view mirror, it was an acid test and encouraging proof that the organization has a plan and will stick to that plan.
"I think everybody's situation is different, and coming here was a breath of fresh air for me," said Moses, who was cut by Washington in May and signed with the Jets, emerging as a consistent force on the offensive line. "The organization is willing to do what it takes to make players comfortable, and families, too. When you have those things, like day care at the stadium, those little things make life easier and we come to work and the only thing to worry about is football. You want guys to come in and dial in and not worry about what's going on outside. I think we have a great organization from Woody [Chairman Woody Johnson], all these guys. They have a plan and it's planned out. You got your quarterback and now it's about getting other people who can help."
"Your quarterback," as Moses said, is obviously Zach Wilson. As Saleh has said, playing quarterback in the NFL is perhaps the toughest position in professional sports. And playing quarterback as a rookie -- well, that can often be as tough as it gets. Wilson is a testament to that challenge as the young man from Utah and BYU found himself in the media glare of the New York/New Jersey area, expectations high after he was taken No. 2 overall in last year's draft.
Asked if next season he expects the Jets to be in the playoffs, Wilson said: "I wouldn't say that. Of course, that's the goal, to be in the playoffs and win the Super Bowl. The goal now is to keep improving. With all the young guys who got the reps kept getting better, the GM and coaches have a plan for us. We all have to do our part to contribute. We'll get there if we work at it."
For Wilson, it seemed to be a tale of two halves: He had 11 passes intercepted in his first six games, missed four games with a PCL strain, then returned to play mistake-free ball with no interceptions in the final five games of the season.
"I have 100 percent confidence in myself, that I can play in this league and play well and help lead this team to do some special things," Wilson said. "That has to be the focus, the leadership aspect of bringing guys along and having them elevate around me. As a unit to be so connected in every way. I'll work in the offseason to bring everyone together and improve as a team.
"Adversity definitely leads to success in the long run. When things get tough, that's when you grow and learn. You just have to find positives in it, as tough as that can be. [This season there were] a lot of really good lessons learned, back to Week 1 and up to this point. Pull those good things out, make corrections and take them into next season."
Across the board, the on-the-job training of the Jets rookies -- from Brandin Echols, Jason Pinnock and Michael Carter II in the defensive backfield to Wilson, Michael Carter, Alijah Vera-Tucker and Elijah Moore on offense -- help form a promising nucleus. Add veterans Carl Lawson (returning after an Achilles tear), Mekhi Becton (coming off a knee injury), Hall and others and the arrow is clearly pointing up.
Moore was asked about what the offense will be like next season and beyond.
"Fun to watch," he said. "Especially with how I know it worked being in the building with those guys. I felt like we were God-chosen. They work just like me, compared to none. I feel like we work extra hard, and I'm grateful we're all here together."
The pieces are coming together, with Saleh as the puppet master. Not a task master, but truly a coach who has the players' respect and their belief that he's the right man to lead them forward.
"He's an optimist, I'm sure there will be something inspiring that most people wouldn't see or take out of this year," Hall said about the coach. "He will see the bright future and you have to have that mentality to do something special. You have to stick to that vision, what you see in your heart."