The Jets attempted to roll strikes Tuesday, but fire and smoke inside a local bowling facility canceled an organizational bowling event.  This was a scheduled bye week team activity that is typical in the National Football League as we enter our off weekend with a 5-4 mark.
The general rule for the bye week is four consecutive days off with two of the days falling on Saturday and Sunday unless the team has a Thursday night game following the bye.  But players must be given a day off at the rate of 1 per week.  Typically, the off day is Tuesday, but since today wasn't an off day because of the team activity, the Green & White are off Wednesday through Sunday.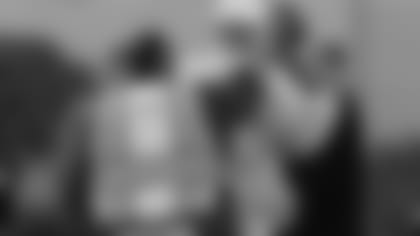 Head coach Rex Ryan, who spent part of his childhood in Toronto, CA and sported a classy blue Maple Leafs jersey this morning, posed for a few photos with firefighters before team buses departed back to the Atlantic Health Jets Training Center.   A small group of staff members were in the bowling alley when the first signs of smoke appeared, but coaches and players had not arrived at that point.
Ryan hopes the Jets will catch fire in Week 11 up in Buffalo.  After alternating wins and losses for nine weeks, we return to action with a two-game road swing against the Bills and then the Baltimore Ravens.
"Our guys love coming in the building," Ryan told reporters Monday.  "They like everything about it. They like the preparation. They focus and the big thing for us is now we've got to be consistent. We can't have the ups and downs if we want to get to where we want to get to. So I think that is the next real challenge for our team."
"It was pretty apparent to us early on this offseason that we have a pretty special group of guys," added GM John Idzik on a "Jets Replay" appearance.
Speaking of special, I was supposed to bowl on a team this morning with Nick Folk.  I had already penciled in a 300 game for "Mr. Perfect," but alas we'll never know.