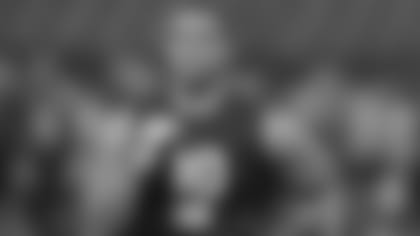 Three steps and one right turn past where Dimitri Flowers was sitting, a media scrum had broken out as Sam Darnold leaned against the outside walls of two banks of standing lockers for his first Jets news conference of rookie minicamp.
Flowers barely batted an eye.
"With Baker at Oklahoma, we had that all the time," he told me, referring of course to Baker Mayfield, the first quarterback taken in last week's draft before Darnold went to the Jets.
Flowers was not in the same draft stratum as the first-round QBs — the Sooners' 6'2", 248-pound fullback was signed by the Jets as an undrafted free agent. But the NFL stage is clearly not too big for him. Part of that comes from his lineage.
"My father was a first-round draft pick by the Bills back in 2000," he said. "Then my cousin this year just got drafted by the Seahawks in the fifth round."
That would be dad Erik Flowers, the DE-LB out of Arizona State who was taken 26th overall and played 58 games for Buffalo, Houston and St. Louis over a five-year career, and cousin Tre Flowers, the strong safety out of Oklahoma State.
But Dimitri Flowers is also a top student/athlete in his own right, a product of the crucibles of Texas high school football and baseball. At Churchill HS in San Antonio, he was a centerfielder in the spring and a running back, receiver and wildcat QB in the fall.
"I never blocked in high school, or rarely did," he recalled. "So getting to Oklahoma, it took me a little while to adjust to playing that role. But I think I picked it up pretty well."
Indeed, he was named All-Big 12 first team after his senior season, and for his OU career, while he had only 36 rushes for 151 yards and four TDs, he also totaled 54 receptions for 886 yards and 13 TDs.
"I never dropped a ball in college, and actually I'm tied with DeMarco Murray for receiving touchdowns by a running back at Oklahoma," Flowers said. "It's something I've always taken pride in. I don't always get a lot of opportunities, so I have to take advantage of them."
And that's what he's doing now as he tries to carve out a spot on the Jets roster. It's still early in his pro career but he said, "I'm doing well. It's been a blast these past couple of days."