When college football careers end, teammates can scatter to the wind. But when NFL careers begin, sometimes teammates can come back together in the most unlikely of ways.
Take Jeremiah George, the Jets' fifth-round rookie linebacker out of Iowa State, and Jeremy Reeves, the first-year cornerback, also from ISU. There was no reason to believe they'd both end up in green and white so soon, yet here they are at the Atlantic Health Training Center, new Jets and fast friends trying to make names for themselves in the NFL.
"I would love to thank Jeremiah," said Reeves during a break at the weekend's rookie minicamp that both participated in. "He's a guy that's really hyped, really intense, and he got me going a lot."
"I'm a competitor. I feel the best way to bring out the best in yourself and others is to compete," George replied. "Going into this year's pro day, this felt like a second chance for me — or a last chance. I think Jeremy looked at it the same way."
Let's back up a little. Reeves left the Cyclones after the 2012 season but couldn't participate in the combine or in Iowa State's pro day due to surgery to repair a pectoral tear. He didn't get any NFL calls that offseason so he dedicated himself to building up a head of steam for this year's pro day.
And when he flagged some in his workouts, Jeremiah was there to pick him up. George had a fine senior season with 133 tackles and all or part of five takeaways (three forced fumbles, two interceptions). He wanted to ace this year's combine to enhance his draft status.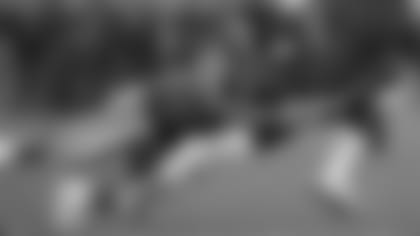 "I did pretty poorly at the combine, by my standards," George said, adding that he was fighting through a hamstring injury that he didn't alibi but that surely impacted his combine performance. "So I went back to Iowa State, stayed at school for about a month, and started preparing for my pro day." Did he train with Reeves? "Yes, I did," he said.
"He just has a lot of energy," Reeves said. "He's all about his teammates, his players. That's just the type of guy he is."
The pro day came March 25 in Ames, and George admitted to some pre-competition jitters. "I just felt a nervous tension in the air, and I didn't like it at all," he said. "But we started to do the benchpress and we cheered guys on. I did mine and I thought I did pretty good, so I started to get excited."
George made a modest improvement on his bench, 30 reps to his 28 at the combine. Next came the vertical leap and the 5'11", 234-pounder, who had a 33" leap at the combine, skied for a personal-best 38.5".
"I went crazy, and then everybody was like, 'OK, let's do this, let's just have some fun and compete,' " he said.
Reeves didn't need too much firing up. He's a modest young man who nevertheless knew he has some excellent physical skills that he put on display that day — a 4.27-second 40, a 43" vertical and an 11'6" broad jump.
"I wish I could've gotten invited to the combine this year," he said with a smile. With numbers like those, he would have been one of the February stars in Lucas Oil Stadium.
And George put the finishing touches on his comeback, improving his 40 from 4.83 to 4.66 and his broad jump from 9'8" to 10'9".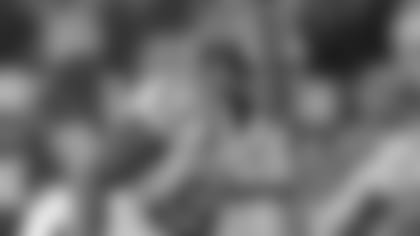 Jets scouts were among those in attendance that day. Three days later, Reeves was signed. Six weeks after that, George was drafted.
Now these friends, separated as Cyclones, have been reunited as Jets. Both are considered undersized, and both have some odds to overcome to make the roster.
But as George has said about his size, "I've heard that so many times that it goes in one ear and out the other. ... I've had to prove people wrong before. I have no problem with doing that again."
And it'll be interesting to see if Jeremiah George and Jeremy Reeves, in the coming months, can lift each other to new heights.