Fans lined up today for the first day of Jets training camp at SUNY Cortland and got their first glimpse of wide receiver Eric Decker. And what they saw was good. Very good.
Decker, acquired in the offseason as an unrestricted free agent from Denver, started off strong, catching nearly every pass thrown his way, showing he has all the makings of the impact player the Jets need at the position.
Decker, who was drafted in the third round out of Minnesota in 2010 and spent four seasons with the Broncos, appeared to be relaxed and confident in his first outing with the Jets, palling around with fellow WRs Jeremy Kerley, Stephen Hill and David Nelson.
He described today as a great opportunity to "break the ice" with his new team.
"It's a whole new experience for me being up here in Cortland," he said. "First day of training camp, just getting to know where I'm going from the dorm to the practice facility — which I got lost. I learned the hard way, but I found my way down and it's just good to get out there and get back to football. I'm real excited and look forward to a good training camp."
Decker admitted to being nervous going into day one of practice because he didn't know what to expect, "but a ball is a ball. It might be a different jersey, it might be a different team, but you figure it out. That's what's great about this organization. You get a lot of guys that can play and I'm looking forward to building upon those relationships."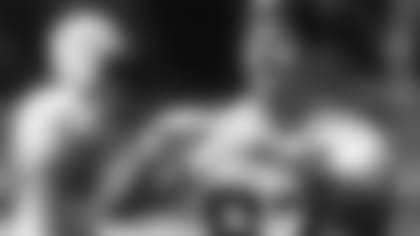 He also seems to be growing accustomed to Rex Ryan's coaching style, calling Ryan "an ultimate players' coach."
"I have a lot of respect for him as far as a coach goes and his personality coming in," he said. "You saw a lot on TV and what you see is what you get. He's doing whatever he can to make us comfortable, to make us confident. He's going to take care of us and he's going to get us fired up and ready to play, too. That's the good balance that you want to play for that coach because he takes care of you, he respects you and vice versa."
Decker also addressed the synergy between quarterbacks Geno Smith and Michael Vick.
"Today was really good. I thought Geno and Mike did a great job of taking command of the huddle and making some good throws," he said. "We had good one-on-one sessions, some good team periods. Obviously nothing was perfect, but for day one it was good, something we can build off of."
Whether it will be Smith or Vick starting on opening day against the Raiders, Decker has had opportunities to work with both QBs and thinks of the duo as a chance to develop as a receiver.
"It's been a good growing experience having both there," he said. "The coaches make sure the guys get reps with everyone, receivers get that comfort level, and that's important. And as receivers you try to work with both and just try to get to that comfort zone."
Adding the 6'3", 214-pounder to the lineup gives Geno added confidence. He called Decker someone who has "proven himself" and his ability to work hard.
Vick's thoughts on No. 87: "Decker runs great routes. He knows how to create space. You can just tell that him working with Peyton [Manning] over the last couple of years has helped him blossom as a receiver."
In addition to playing on a new team, Decker is looking forward to "the overall experience of what New York brings to the table. It's a culture, it's a lot of passion, and I understand that Jet fans are very excited about this season — we have a job to do to perform on the field and give them our best. It is a big city, it's one of the best cities if not the best city in our country, so I'm looking forward to having those opportunities and experiences."
---