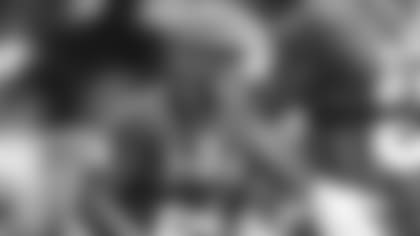 Andre Roberts might have made the Pro Bowl due to his return prowess, but the 31-year-old has reminded Chargers coach Anthony Lynn this week that he is available to run a route or two for the AFC All-Stars.
"He came up to me yesterday and asked if I played receiver as well," Roberts said after practice Wednesday. "I was like, 'Ya, of course. I played receiver more than returner when I came in the league. But I'll definitely be in his ear and my receiver coach's ear. I think he kind of controls who goes in and out, so I'll definitely try to get some plays in."
Roberts' positional coach is Phil McGeoghan, who played four seasons in the NFL including a stint with the Jets. Roberts had 10 catches with the Green & White in 2018 including a 13-yard scoring grab against the Texans in Week 15. The nine-year veteran has 254 career receptions and needs just 10 yards to reach 3,000 yards receiving, but he is in Orlando this week because he was the NFL's best returner in 2018.
"This is nothing like practice in New York or probably anywhere else," said Roberts following a light workout. "It's just a whole lot of fun and guys getting to know each other. More of a walk through speed kind of pace, but I have my cleats on so I did a little bit of work. But it was all fun."
Roberts paced the NFL in kickoff yards (1,174) and he also was atop the league with a 14.1-yard punt return average. He was No. 1 with 10 returns of 40+yards and he scored both on a PR and a KR.
Due to a slick field Thursday morning, Roberts didn't get to practice his punt returns. But he has his eyes on a house call if he gets an opportunity Sunday afternoon at Camping World Stadium.
"If they punt it to me, of course. I understand a lot of these guys out here don't play special teams, so I don't know how much they're going to be wanting to block for me like the guys in New York," he said. "But if I get a good chance, watch out."
After signing with the Green & White in March, Roberts was lights out. He could become a free agent in March, but he would like to stay right where he is because he thinks the Jets have a good thing going under special teams coordinator Brant Boyer.
"I was talking to him after he finished his contract and I was happy he stayed. That's definitely going to be one of the big reasons if I do come back," Roberts said of Boyer. "I'm glad he's still there. He did a great job and I'm happy we made it to No. 1. Hopefully we can keep doing that."
Top Photos from Thursday's Practice at the Pro Bowl in Orlando