There was a message on a pair of monitors outside the Jets' locker room today that symbolized a new beginning: "All Workout Groups Will Begin In The Auditorium With Coach Ryan."
So even before strength coach Sal Alosi got his first-day testing under way, Ryan delivered a strong message to his players.
"He said we're in for a change. He said we're building up a bully and that's what we're going to have to work with," said cornerback Darrelle Revis. "The offense might have to pick up the defense, the defense might have to pick up the offense and the special teams might have to pick up both of them. He made it very clear what he wanted to do and he's very confident in his players and his coaches."
Revis, Leon Washington and Nick Mangold all stopped by the Jets' media room to take part in a photo shoot for the New York Jets Taste of the NFL. Mangold, an attendee at "the Taste" each of his first three seasons in the league, posed in full uniform for photos along with Jason Oshins, a longtime fan of the club and the Taste.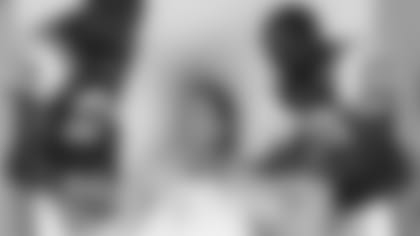 "I've had a blast in the past," Mangold said of the event. "The people there are great and the atmosphere is fun. It's a great night out where you get to enjoy some of the fantastic food of the New York area and you get to mingle a little bit with a whole bunch of different people and it's for a great cause. You add those three together and you've got a pretty good mixture."
"The food is great. I actually go to some of those places now," added Revis. "You need good food for a good event. The Taste of New York is one of the best events I've been to with the Jets."
The Pro Bowl center, who spent a lot of his time in his native Ohio following his trip to Hawaii, gave his body a rest for much of the early off-season. Mangold relished the time away to recuperate and even golf, but he's ready to get back to work.
"Sal does a great job of keeping things fresh and knowing what your body can handle," Mangold said. "This will be my third year with Sal and he knows what I can do and he knows how best to get that out of me. I think that's a big help."
Hours after Mangold departed, Revis and Washington joined Oshins for some playful shots. The 5'11", 204-pound Revis told me his legs were a little sore from doing some squats earlier.
"Sal's résumé speaks for itself. If you look at the past two or three years, we've been a team who's had a very low rate of players on injured reserve," he said. "It tells you that his program works and if you stick with it, it will help you."
The Jets had three workout groups today, kicking off at 7 a.m., 9:30 a.m. and noon. Even though he opted for the first shift, Mangold says he's not an early morning person.
"I hate getting up in the morning. It really blows my mind," he said. "I do it in the season as well. I get in and lift before meetings and everything. Why? I have no idea, but I'd much rather sleep."
In some respects, this was the first true day of the 2009 season. With a new head coach in place and the players officially working out here at the Atlantic Health Jets Training Center, the culture change has begun.
"After the season, some guys go their separate ways and some guys still hang out together," Revis said. "But when you see everybody back, it's good."