As the NFL's league year approaches, the Jets have uncertainty at the tight end position with both Jeff Cumberland and Kellen Winslow scheduled to become unrestricted free agents.
While GM John Idzik doesn't discuss contract negotiations publicly, the Green & White are here in Indianapolis to scout all the prospects, including a tight end class that features a pair of studs in North Carolina's Eric Ebron and Texas Tech's Jace Amaro.
The 6'4", 250-pound Ebron had a record-setting career for the Tar Heels, establishing TE career marks with 112 receptions and 1,805 yards. This past season, Ebron set Carolina records at the position with 62 catches and 973 receiving yards.
"I'm very fast and very different," he told the media here Thursday.  "I play the tight end role like no one else."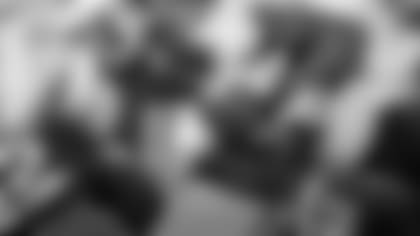 Ebron has eye-popping athleticism, but he doesn't plan on depending solely on his receiving skills.
"Every team wants a complete tight end, an all-purpose tight end, not just one who can run down the seam and can catch passes," he said. "They want a guy who can block, too. I tell them that I'm working hard on it, which I have, and I'm not bad at it, which everybody thinks. But we'll see."
A number of mock drafts have the Jets taking Ebron with the 18th overall selection in May.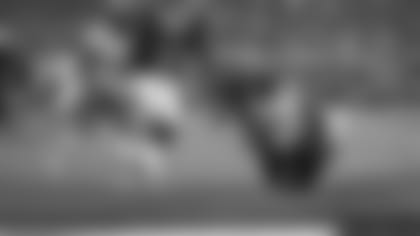 "What makes me different is just who I am — my play, my style of play. But there are a lot of other great tight ends," he said. "I don't believe I am the No. 1 tight end because I still have work to do. But every tight end, every person has work to do. We'll just see on the draft board."
After breaking the NCAA all-time record for receiving yards in a season by a TE with 1,352, Amaro declared for the draft.
"At the beginning of the season, they were playing a little man. But almost after the first or second game, there was bracket coverage almost the entire game and I saw basically double team the entire game," he said. "So I think that plays a big part of what I really can do, being double-teamed almost the entire year and still pulling the numbers that I did."
Although Amaro produced his most damage in former Jets QB Kliff Kingsbury's spread attack, the former Red Raider says he found comfort in more than just one system.
"When [Tommy] Tuberville was there, I did a much better job of blocking and that was my role in the offense, to be more of a blocker. I only caught like three balls a game," Amaro said. "When Kingsbury came in, he told me, 'I'm going to need you to catch 10-plus balls a game for us to be successful.' I did what he asked me to do and we threw the ball 50-60 times. That was our game plan — that was what led us to be more successful."