Barring a second Jets' major trade in a calendar year, the Green & White most likely will not have an opportunity to select pretty much everyone's No. 1 wideout in this year's class — Clemson's Sammy Watkins.
"What I love doing is dominating defenses. I think that's what I bring to the game and I think that's going to turn over to the NFL," Watkins said in Indy this weekend.  "When I come into the NFL, I think I can be that dominant receiver."
That was a day before Watkins went out and raced to a 4.43 time in the 40-yard dash Sunday (4.34 unofficially) and then reportedly stood out in ball drills as well.  Last season, Watkins caught 101 passes for 1,464 yards with 12 TDs.
"For me, I think I can run by just about anybody," he said. "That's my objective, that's my motive. Fly route, home run, post, that's the kind of guy I am. I feel like I can score on just about any play on any route when I get the ball and that's the mentality you have to have as a receiver."
At this point, most pundits have Marqise Lee and Mike Evans as their 2nd and 3rd rated receivers.  And that order changes depending on who you speak with.   The Green & White need help putting points on the scoreboard and more weapons.   They were 7-1 when scoring 20 last season and only Jeremy Kerley caught at least 40 balls.
After a scintillating sophomore campaign (118 Receptions, eight 100-Yard Games), Lee saw his numbers slip (57-791-4TD) in 2013 as injuries, drops and uneven Trojans quarterback play all factored in.  But Lee, who posted a 4.52 time in the 40-yard dash, was solid in positional work and was a name I heard often in Indy.
"It's a little bit my fault," Lee said of the drops.  "Loss of focus as far as not looking the ball all the way in before getting too comfortable.   Not looking the ball all the way in before I make a run, running before catching the ball, things like that."
While the 6'0" Lee is awfully explosive, the 6'5", Evans can also get down the field.  He posted an impressive 4.53 in the 40-yard dash and Johnny Football's No. 1 target has ideal size to match up with NFL corners who are getting bigger and bigger.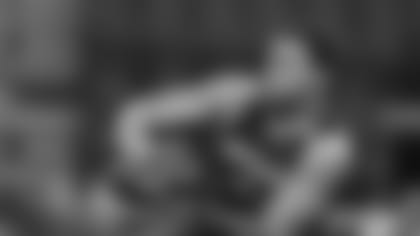 "I think a lot of other basketball players should play football. We have the qualities," said Evans, who met with the Jets.  "If there's a jump ball in the air, treat it like a rebound. It helps me get off the press, use my quickness like when I used to dribble. Everything just incorporates into football."
There promises to be more than just three receivers taken in May's first-round.  We recently wrote about Brandin Cooks and Jordan Matthews, and Florida State's Kelvin Benjamin, Penn State's Allen Robinson and the LSU pair of Odell Beckham Jr. and Jarvis Landry all have interesting upsides.  Beckham blazed to a 4.43 in the 40-yard dash and the more physical Landry posted a 4.77.
"It's like apples and oranges. We're both great players," Landry said of the former Tiger tandem.  "We're both weird players. He takes the top off things a lot. For me, it's intermediate, it's special teams and kickoff. It's the dirty work mostly, but you know, I love to do it."