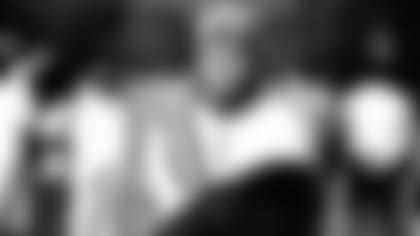 Legendary NFL scout Dick Haley, who spent 16 seasons with the Jets, has died. He was 85.
Todd Haley, a Jets scouting assistant (1995-96) and wide receivers coach (1997-2000), announced the news about his father on Twitter.
"Dick Haley was the consummate professional who had great respect for the game of football and the people who either played or worked in the game," said former Jets GM Terry Bradway. "As a former player, who became a highly successful executive, he took the time to mentor young scouts. He taught them how to identify and evaluate winning players while doing it with class and dignity. I am grateful for time I spent with Dick at the New York Jets. He will be missed by all who were fortunate to know him."
After a historic run in Pittsburgh as director of player personnel, Haley joined the Jets in 1991 to oversee the team's scouting department and the evaluation of college personnel.
Former Jets GM Dick Steinberg said at the time of Haley's hiring. "Dick is one of the most respected guys in the business. Personnel-wise he has been involved for 26 years (Pittsburgh 21 years and Blesto 5 years) and he has 4 Super Bowl rings to prove it. I'm very happy with the experience Dick brings to our staff."
After Steinberg was diagnosed with stomach cancer in 1994, Haley took over draft operations for the Green & White and ran the draft for eight years while drafting the likes of DE Hugh Douglas in 1995, WR Keyshawn Johnson in 1996, and he worked with Bill Parcells on a 2000 class that featured four first-round picks (DE Shaun Ellis, Edge John Abraham, QB Chad Pennington and TE Anthony Becht) plus WR Laveranues Coles in the third round.
"He was incredibly special person who taught me so much about football and life," said Mike Tannenbaum, the former Jets GM who worked in the club's front office from 1997-2012. "He was gracious with his time and wisdom, and he was the epitome of someone who cares deeply about the game of football and his family."
A Midway, PA native, Haley played halfback at the University of Pittsburgh from 1955-59 was drafted in the ninth round by Washington in 1959 where he played two season at defensive back. He was selected by the Minnesota Vikings in the 1961 expansion draft before finishing his career with the Steelers. Haley totaled 14 INTs in 75 regular season games and also had 22 offensive touches.
Haley started his scouting career with the BLESTO scouting combine in 1966. After 5 years with BLESTO, he joined the Steelers personnel department. During his time with the Steelers, the team captured nine AFC Central titles, four AFC championships and four Super bowl titles. The 1974 Steelers draft has always been the gold standard in professional football as the Steelers selected WR Lynn Swan, MLB Jack Lambert, WR John Stallworth and C Mike Webster in Round 1, 2, 4 and 5, respectively. They would alter add S Donnie Shell as an undrafted free agent and all five men were later inducted into the Pro Football Hall of Fame.
Steelers president Art Rooney Jr. said of Haley: "Dick played an instrumental role in our unprecedented success in the 1970s during the second part of his career. He developed a unique eye for talent, and he ultimately helped identify and draft many of the players that allowed us to win four Super Bowls during that decade."
After the Jets' 2002 draft, Haley transitioned to a role as senior personnel scout until 2007. Affectionately referred to as Mr. Haley by staffers at the team's Weeb Ewbank hall facility on Long Island, he was a scouting giant and a gentleman.
"I'm always going to be low profile," he once said. "It's the best way."