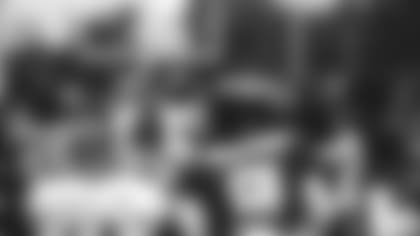 As HC Robert Saleh second training camp hits week two for the Jets, ESPN NFL Insider Dianna Russini is eager to see the potential of the team unfold in the regular season.
"I have so much interest in this Jets team just knowing how much optimism is surrounding the team," Russini said during a visit to One Jets Drive. "Going back to free agency and the draft and how well this organization did in picking the players and filling up this roster with players who have so much potential."
In order for the Jets to cash in on that potential, Russini says second-year quarterback, Zach Wilson must be the focal point.
"It's always going to be about the growth of Zach Wilson because as he moves, [the Jets] move," Russini said. "In his second year, everyone's watching to see what type of improvement, and what type of leap is he going to take, and I really commend this coaching staff with how they're instructing him. They aren't putting these big expectations on him; they just want to see the small growth and the small things. Everything I've heard from talking to his teammates the leader he is in the locker room, how he is in the meeting rooms, how he is in the huddle, he's maturing, and they have already seen it. All signs point to up."
Wilson showed a glimpse of what that improvement could look like at the end of last season. After he returned in Week 12 following a knee injury, Wilson threw for 1,166 yards with 4 touchdowns and 2 interceptions. OC Mike LaFleur commented on the signal-caller's progress early in camp.
"I can see it right now," LaFleur said. "I can see how much faster he's going through his progressions, how much faster he's taking off when somethings not there, and how much more comfortable he is in this system. It really shows in the meeting room, not just because he's answering all the right questions but because his demeanor and calmness when we're talking about the offense or a specific play."
As far as where the Jets fit inside the AFC East in 2022, Russini thinks there is opportunity to make a move up the ladder. Russini, who has pegged the Buffalo Bills to win the Super Bowl, would like to see a similar Year 2 leap from Wilson that Buffalo got out of Josh Allen back in 2019.
"The Jets have the opportunity here to really pick up some steam and make a difference and actually land at the top," she said. "The Buffalo Bills, top to bottom, they look really good. Josh Allen has developed tremendously, and I'd love to see that kind of growth in Zach Wilson this year the way we saw Josh take that step in his second year and lead the Bills to the playoffs."
If you ask Russini, she thinks the Jets will look completely different than what people saw last year and that could mean meaningful games in December and beyond.
"I think that's going to be the challenge of really being able to figure out the identity of this Jets team," she said. "I think they're going to be competitive and they're going to show a different version of themselves this year.
"I think with some of these key players coming back and some of these young guys, I think this could be a year the Jets have some good success."