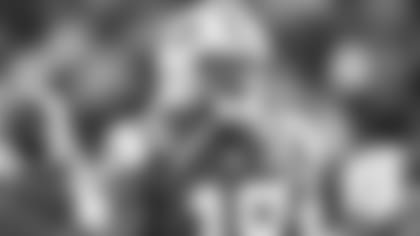 Any list of 2019 unrestricted free agent wide receivers probably should include one asterisked wideout who's not free but possibly will be in the mix for teams such as the Jets, who are looking to add experienced hands to Sam Darnold's arsenal.
Antonio Brown, Pittsburgh's talented but mercurial WR, announced in late February after a meeting with team president Art Rooney II that "we both agreed that it is time to move on."
Steelers GM Kevin Colbert had a slightly different take on Brown the next day, telling reporters, "By no means are we going to make a trade or any type of move that will not be beneficial to the Pittsburgh Steeler organization. We will not be discounting you on the trade market. And we certainly will not be releasing you."
If the Steelers do decide to move their 5'10", 181-pound gamebreaker, there will be a line of suitors. In his last six Pro Bowl seasons in black and gold, Brown has had at least 101 catches, 1,284 yards and eight touchdown receptions in each one.
Setting trades aside, the pool of UFA wide receivers has many recognizable names and good prospects. Here is a short list of 10 free agents that should attract attention next month:
Golden Tate: He remains alluring despite turning 31 during training camp. The 5'10", 197-pounder split his first eight seasons between Seattle and Detroit and had four straight 90-reception seasons with the Lions. Then he was traded last midseason to the Eagles, starting slowly with the Birds but finishing strong with the game-winning TD grab in the wild-card win over the Bears. Tate is still one of the top YAC receivers in the game.
Demaryius Thomas: The 6'3", 229-pounder, who'll turn 32 on Christmas Day, has 688 receptions and 62 touchdowns in his first nine NFL seasons. Further, Jets fans are familiar with his work, since four of his TDs have come against the Green & White and he had 11 catches vs. the Jets last year — five for the Broncos, six for the Texans.
Adam Humphries: The 5'11", 195-pounder was the possession part of the Bucs' No. 1-ranked passing offense, contributing career highs of 76 catches, 816 yards and five TDs.
Tyrell Williams: Williams says he wants to be some team's No. 1 WR. The 6'4", 205-pounder played like one for the Chargers in 2016 (69 catches, 1,059 yards, seven TDs), then was No. 2 to Keenan Allen the past two years.
Randall Cobb: Aaron Rodgers' favorite target the past eight seasons, Cobb (5'10", 192) has 517 catches (for 6,120 yards and 46 TDs) as a Packer. He's been more of a possession WR the past four years and was bothered by a hamstring injury last year.
John Brown: After four years with Arizona, including his most productive season in 2015 (65 catches, 1,003 yards, 7 TDs), Brown went to Baltimore and was the deep threat (17.0 yards/catch) for the Ravens' sputtery offense.
Cole Beasley: Dallas' 5'8", 180-pound slot receiver, who soon turns 30, has expressed his desire to be utilized more in the offense. He's coming off a 65-catch, 672-yard, three-TD season for the Cowboys.
Chris Hogan, Phillip Dorsett, Cordarrelle Patterson: Patriots UFAs Nos. 1, 2 and 3. Hogan (6'1", 210) at 30 has already played for two AFC East teams. The Ramapo (NJ) HS and Monmouth University product started with the Bills, then the last three years became one of Tom Brady's reliable targets (107 catches, 1,651 yards, 15.4 yards/catch, 12 TDs). Dorsett (5'10", 192), Indy's first-round in 2015, contributed as a Pats role receiver the past two seasons. Patterson (6'2", 220) has intriguing versatility — billed as a WR, he had his greatest exposure as a situational RB with NE last year and was the only NFL player in 2018 with at least 20 rushes, 20 catches and 20 kickoff returns (including his sixth career KO-return TD).
Andre Roberts, Jermaine Kearse, Rishard Matthews: The Jets' three wideout UFAs are in different positions. Roberts in his ninth pro season was lightly used as a WR but enjoyed his first All-Pro season and played in his first Pro Bowl as one of the NFL's top kick returners. Kearse had a career year in 2017 as a first-year Jet but his production fell off last season. Matthews had his two best seasons with the Titans in '16-17, asked for his release early last season, signed with the Jets and saw little action.