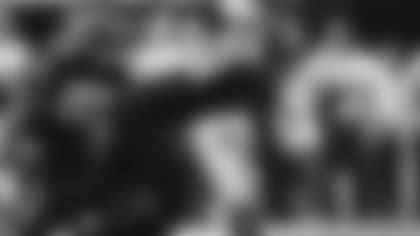 First-year Jets defensive coordinator Gregg Williams has elevated his unit to one of the top run defenses in the league. Ranking first in rushing yards allowed per play (3.01) and second in rushing yards allowed per game (81.9), the 61-year-old defensive guru plans to keep pushing his group to the next level.
"There's so many other categories of run defense that by the time this thing is done this year, you're going to see records set in the National Football League," Williams said. "Since they've been keeping records on these types of things, we're set to break a lot of those by the end of the year when we continue to do it a certain way. We believe everything is how aggressive we play on the line of scrimmage and how constricted we play on the line of scrimmage and making sure that running backs are now people who have to be tough and not fast. It's a simple thing."
The Green & White's run-stop skills were on full display Sunday against the Giants after putting a stop to their crosstown rival's most versatile offensive weapon, running back Saquon Barkley. The NFL's 2018 Offensive Rookie of the Year — whose 261 rushing attempts and 1,307 rushing yards ranked second in the league in 2018 and who ran for 11 touchdowns — was limited to 1 yard on 13 carries in Sunday's MetLife matchup.
"We did a good job executing on Sunday. We knew that they wanted to get Saquon going, and obviously he's a hard dude to bring down, so we had to swarm to him like Steve [McLendon] was talking about," said defensive lineman Henry Anderson of a unit that finished with nine run stops for for loss or no gain. "It's just one of those things that we had success early, and once you have success early, everyone just feeds off that and you get into a groove and get rolling. Everybody starts to bring the same energy every play and just feed off of everybody else's playmaking. We started early and shut down the run early, so it fueled the defense for the rest of the game."
Since the start of the season, the Jets have dealt with a number of significant injuries on both sides of the ball. With players like linebackers C.J. Mosley and Neville Hewitt missing extended time due to groin and neck injuries, respectively, and rookie LB Blake Cashman being placed on IR because of a season-ending shoulder injury, Williams has had to be creative and flexible with his defensive unit.
"We've had so many different guys play on the defensive front and backer and force element of coverage that they're all playing together," Williams said. "It's not just the front. It's also the coverage people, it's also the 'backer people on how they have to constrict those run lanes and play very well that way. Really everywhere we've been as a staff we've done that, but this has the chance to be the best ever."
After a trade of the Jets longest-tenured defensive lineman in Leonard Williams and multiple injuries at linebacker, there have been opportunities for younger, lesser-experienced players to affect the game. And as the Jets hit the road this Sunday to take on the Redskins, the defensive unit will look to continue its impact against the run as it squares off against veteran Adrian Peterson, a seven-time Pro Bowler and four-time All-Pro selection.
"Sometimes you look at offensive players that are very explosive and that are just once in a generation," said defensive lineman Nathan Shepherd. "You don't make it this many years being a player who checks out in any game. No matter what the score is, he's not checking out. So first, second, third, fourth quarter — just be ready to bring it."