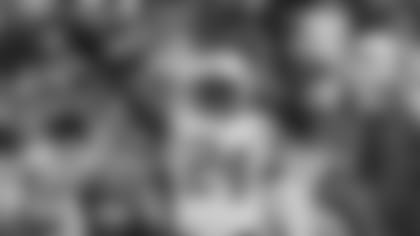 This is one in a series of articles that will also appear in the New York Jets 2023 Yearbook, which will be published later this summer.
For a day this summer, a landlocked shrine in Canton will emerge from the Ohio landscape as an island of excellence.
On Saturday, Aug. 5, Darrelle Revis (along with eight other NFL notables) will be inducted into the Pro Football Hall of Fame.
"I was very young when I came to the Jets," Revis said. "The organization just believed in my gifts and my ability. I'm forever indebted to them."
The feeling cuts both ways. Revis starred for eight seasons with the Green & White. He hung up his cleats for good in 2018 after also putting in time with the Buccaneers, Patriots and Chiefs. Revis is only the 11th NFL corner, and the only player who was primarily a Jet during his career, to be selected as a first-ballot Hall of Famer.
"So many thoughts run through your mind, the journey you've been through, the ups and downs," Revis said, who joined the Jets as the 14th overall pick out of Pitt in 2007. "It's been a ride. I've stuck to it, I've stuck to the way I wanted to approach the game, play the game at a high level. I had the skill set to do it. So it's been amazing."
Though his personal statistics may not be as gaudy as some, he was one of the most feared and respected cornerbacks in the NFL, one opposing quarterbacks often glanced at before looking for another option. In his career he had 29 interceptions, 139 passes defended 496 combined tackles and 12 fumble recoveries. He was a four-time first-team All-Pro selection, was named to seven Pro Bowls, and was a Super Bowl winner in 2015.
"My superpower was not letting receivers catch the ball," Revis said. "It's tough to do. So much energy is put into it. But some days are not the best days."
Revis noted that of the more than 30,000 men who have played in the NFL, a mere 367 have made it to the Hall.
"When you do the breakdown and calculate, it's 1 percent," he said. "That's incredible. They all had incredible talents and gifts. I'm so humble about this situation. It's amazing."