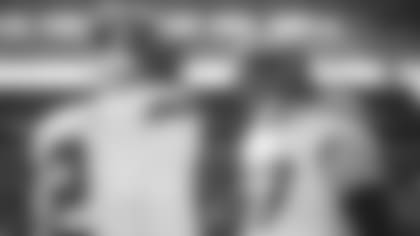 When first we met Jets OL Dan Feeney, he had just signed in free agency and immediately announced his presence as the Man With the Mullet leading cheers at New York Islanders hockey games.
And when we last saw Feeney, he shed his backup role -- playing 100% of 58 snaps in the Jets' win over the Jaguars -- and stepped into the void left when rookie Alijah Vera-Tucker tested positive for the coronavirus and then flipped to center when Connor McGovern went down with a knee injury.
Before we get into the football stuff, the mullet's origin story goes back to the early days of the pandemic, Feeney said.
"It kind of all started back at the beginning of the quarantine," Feeney told team reporter Eric Allen and Leger Douzable on this week's edition of "The Official Jets Podcast." "I couldn't get my hair cut for a while and then I was like, let's just put a mullet in there and see what it looks like. It kind of stuck from there. I never had one growing up, it's just a fun little thing I wanted to do."
So after signing with the Jets last March, Feeney, a hockey fan from Orland Park, IL, corralled a few of his teammates and made a beeline for Nassau Coliseum to watch the Islanders in the NHL playoffs. He became an instant fan favorite.
"I've always liked watching hockey," Feeney said. "I have such a great respect for the guys out there, probably because I'm not the best ice skater. I can't really balance on skates. Watching the guys make athletic plays on skates while controlling that little puck is baffling to me. It's very impressive and I love watching them do it."
For a guy from the Midwest who played at Indiana in the Big Ten (with his Jets teammate Tevin Coleman) before landing in sunny Southern California with the Chargers, the move to the Northeast wasn't so much a culture shock as it was a spirited introduction to the Jets' fanbase and the glare of playing in a media microcosm that is New York and New Jersey.
Until Sunday's game against Jacksonville, Feeney had played a total of 17 snaps on offense in 13 games before taking the place of AVT next to LT George Fant.
"He's playing out of his mind right now," Feeney said of Fant. "You can see it every week, he brings the attitude and the toughness on and off the field. He's smooth on the field, a mauler in the run game. He's having an incredible year, and I'm happy for him."
With the makeshift O-line (Greg Van Roten stepped in at RG for Laurent Duvernay-Tardif) in sync, the Jets rushed for an NFL-best 273 yards in Week 16. Then, Feeney's versatility came to the forefront when McGovern was forced from the game with a season-ending knee injury.
"That's the worst part about this business -- people going down," Feeney said. "Unfortunately the show goes on. You have to handle your business and do your job. I take snaps with Zach [Wilson] to make sure it's good. It's tough to see the doctors come to Connor's aide and I have to go and do his job. That's the hardest part, for sure."
He added: "I'm pretty comfortable playing both. With the Chargers I played guard for two and a half years, then last year at center. I've played a lot of both and it helps that I can swing in and out."
While Feeney has been watching from the sideline (and in practice) most of the season, he's been witness to the growth of Wilson, the rookie QB who set a franchise record when he scrambled 52 yards for a TD against the Jaguars. Feeney said he's witnessed an impressive evolution.
"I've been watching from afar the past couple of weeks and have seen through each game this season that he's taken more of a leadership role and more control," Feeney said. "The confidence is oozing out of him. It's great to see a young guy take that role and take that leadership aspect. He wants to do what he does -- he can scramble, make big-time plays. He loves doing that, and when he does that the confidence really starts coming out. It's cool to see. The past couple of weeks he's been taking great steps."
Next up are the Tampa Bay Buccaneers, Tom Brady and the NFL's No. 3 rushing defense.
"We have a couple of good challenges, playoff contenders, it will be tough for us for sure," he said, referring to the Tampa Bay game, followed by the season finale at Buffalo on Jan. 9. "Guys on and off the Covid list, dealing with obstacles throughout the week. We want to keep building on what we did in the Jacksonville game, the little things and keep trying to build up the program as best we can.
"I think it's going to be similar to the Miami game. They [the Bucs] like to bring pressure a lot. It will be a communication-based game for us, identify the structure, watch our tape, who they like bringing and handling the little things and making sure everyone is on the same page. We have a saying on the O-line: If all we're wrong, we're all right. If all five of us are doing the same thing together, we have a good chance of a positive play.
When asked if he'd like to go by his initials of DJF (for Daniel James Feeney), he demurred.
"We have a lot of initials ... AVT, LDT, GVR, JFM," Feeney said. "It's crazy, so many initials. I'll just go by Dan."